All
Local Events
Hawkesbury Showground: "Chrissy in July" on 15 July 2023
A fun event on Saturday is fast approaching.
A "Chrissy in July" is coming to the Hawkesbury Showground's Philip Charley Pavilion on Saturday, the 15th of July, 2023.
Interested attendees can expect more than 30 stalls, coffee, desserts, and hot food. Kids accessories, home décor and more will be available at the event. It will begin at 9:00 AM and end at 2:00 PM.
The event is hosted by CookiesByDanni, a custom cookie shop based in Hawkesbury.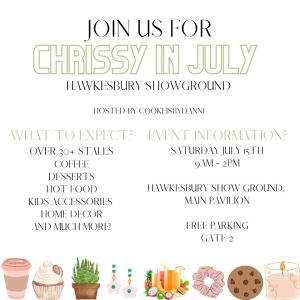 Entry is via Gate 2 of the Showground and free parking will be near the Pavilion.
Image credit to Hawkesbury Showground.