[vc_row][vc_column width="1/6″ offset="vc_col-lg-1/5 vc_col-md-1/5 vc_col-xs-1/5″][us_image image="67486″ size="thumbnail" align="left" style="circle" has_ratio="1″][/vc_column][vc_column width="1/12″ offset="vc_col-lg-4/5 vc_col-md-4/5 vc_col-xs-4/5″][vc_column_text]By
Lawrence Machado
[/vc_column_text][us_post_date][/vc_column][/vc_row][vc_row][vc_column][vc_column_text]
Castle Hill Gymnastic Club's international level senior girls team of Madison Lee, Yun Ni Wong, Sophie Finegan, and Eva Fountis continue to shine at the highest levels in Australia.
The awesome foursome starred at the Australian National Club Championships on the Gold Coast from October 2-4 having earlier won five gold medals at the NSW Women's Artistic Gymnastics State Club Championships in Sydney during September.
Eva, the 2021 NSW Junior Athlete of The Year, Madison, Yun Ni and Sophie won the vault, uneven bars, balance beam and floor events to dominate the NSW Women's Artistic Gymnastics State Club Championships from September 9-11. The girls, trained by the highly-experienced Zoltan Mirko, were crowned overall champions at the NSW Women's Artistic Gymnastics State Club Championships held at Sydney Gymnastics and Aquatic Centre.
Inspired by this terrific performance, they impressed at the 2022 Australian National Club Championships less than a month later. Maddie, Yun Ni, Sophie and Eva came third on the vault, fifth on the uneven bars, fourth on the balance beam and fifth on the floor. They girls were rewarded by finishing fifth overall in the team competition, a result which delighted Zoltan because of the high standards at this level.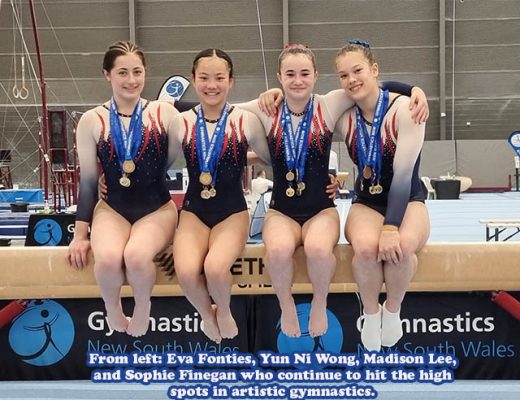 In the individual competition's Future International Division, NSW International Development Athlete of Year Yun Ni won bronze on the vault, third on the floor and sixth overall. Her team-mate Sophie won silver on the uneven bars, and bronze on the balance beam, also in this division.
Eva finished off her Junior International Division career on a high taking overall third place after capturing silver on the vault with two bronze medals on the balance beam and floor.
"I am very happy with their performances because competing at this level is always very challenging," said Zoltan, the club's women's artistic head coach. "Rules are always changing and it takes time for the competitors to adapt to them.
"Eva and Sophie will be moving up into the Senior International Division from 2023, and they will be preparing for the Australian team selections in mid-December so it is a busy time for the girls.
"Every gymnast who is seeking selection in the Australian team in 2023-2024 must compete in this event."
The new season starts earlier next year with the NSW State Trials in February, where the girls can qualify to the 2023 Australian National Championships if they perform well.
Earlier this year, Castle Hill artistic gymnasts brought home 11 medals at the 2022 NSW Senior State Championships which earned them qualification into the Australian National Championship. The club is a part of the Castle Hill RSL Group.[/vc_column_text][/vc_column][/vc_row]