Over 200 family, friends, dignitaries and police officers will gather today to honour the 10-year anniversary of Detective Inspector Bryson Anderson's death, and to unveil the Bryson Anderson Police Memorial.
The respected senior police officer was fatally wounded while responding to a neighbourhood dispute at Oakville on Thursday 6 December 2012.
Police from the Hawkesbury Local Area Command responded to reports of a neighbourhood dispute at a property on Scheyville Road, just after 2pm.
During the course of the police operation, Detective Inspector Anderson suffered serious stab wounds and, despite efforts of his colleagues and emergency services, he later died at Hawkesbury District Hospital.
Detective Inspector Anderson is survived by his wife, Donna, and three children, including one son who attested from the NSW Police Force Academy as a Probationary Constable in October 2022.
The Bryson Anderson Police Memorial will be featured outside Windsor Police Station and include three sandstone pillars, each with the words inscribed 'Courage', 'Pride' and 'Integrity'.
Names of officers who were members of the NSW Colonial Police Force (pre-1862) and those members of the NSW Police Force (1862 and onwards) who passed away while serving the Hawkesbury community will also be inscribed on the pillars. This will include not only those killed on duty, but those who have passed away from illness or other factors while on active duty.
The NSW Police Commissioner, Karen Webb APM, said the Bryson Anderson Police Memorial would ensure the legacy of distinguished fallen officers, such as Detective Inspector Anderson, would carry through for generations to come.
"Today is an incredibly special day for the NSW Police Force, Detective Inspector Anderson's family and the community as a whole; a day where we can provide a permanent structure honouring Bryson's commitment and selfless dedication to policing and the community," Commissioner Webb said.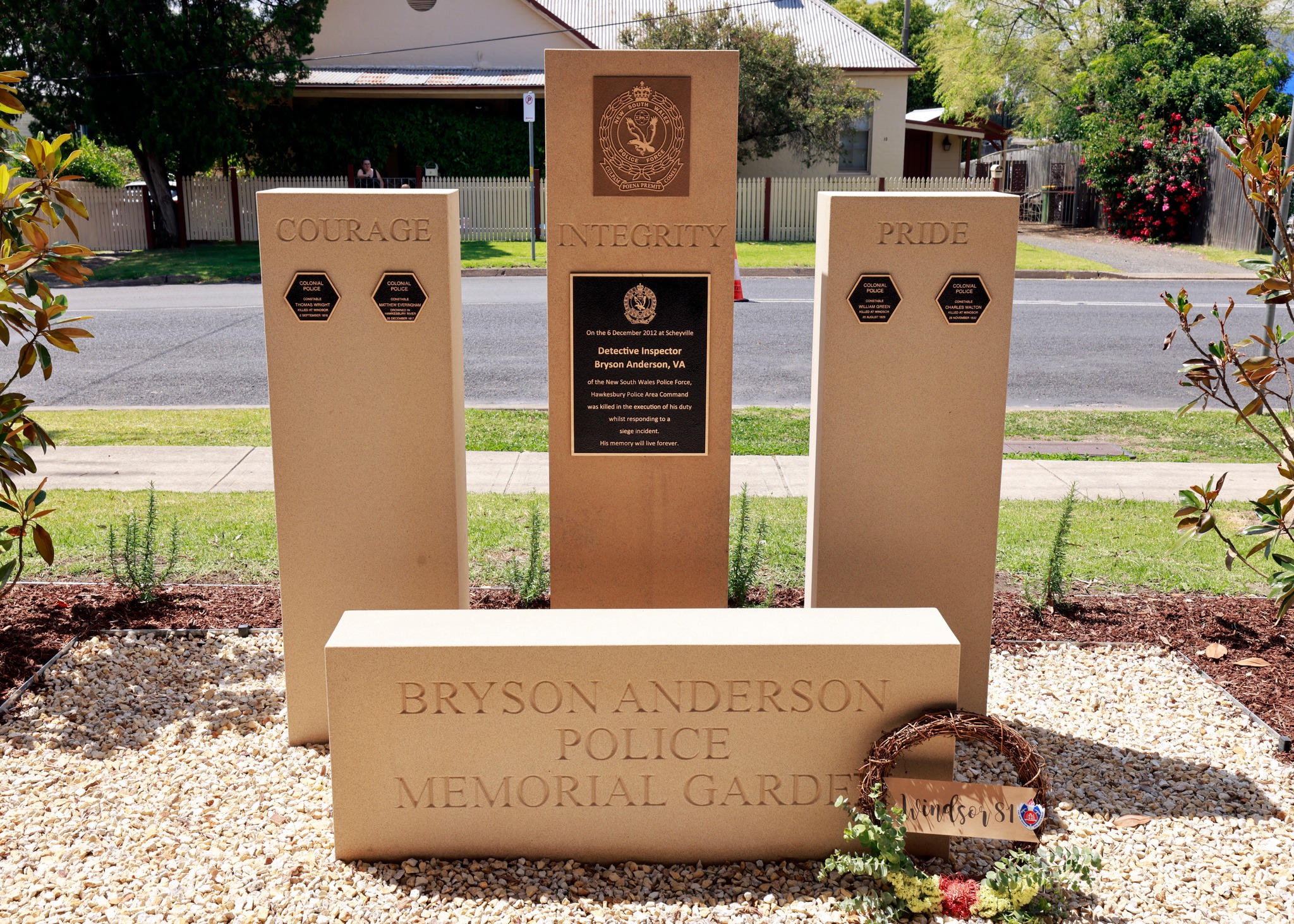 "As we unveil the plaques today, we reflect on the lives and achievements of the officers who died while serving this community.
"One of the toughest challenges for police is starting work each day not knowing what will happen yet understanding they may have to risk their own life to save another.
"It is with great pride I dedicate this memorial and honour Detective Inspector Bryson Anderson, and those officers who have lost their lives in the line of duty, whose names are inscribed, remembering their selfless sacrifice and courage. They will not be forgotten," she said.
NSW Deputy Premier and Minister for Police Paul Toole said today's memorial is a reminder of the everyday bravery and risk officers take to help make our communities safe.
"Today we pay tribute to the incredible bravery Detective Inspector Bryson Anderson showed in serving the community of NSW," Deputy Premier Toole said.
"No police officer should lose their life while serving the community. Bryson was the finest police officer. He was decorated and dedicated. He deserved to go home to his family at the end of his shift, as does every police officer.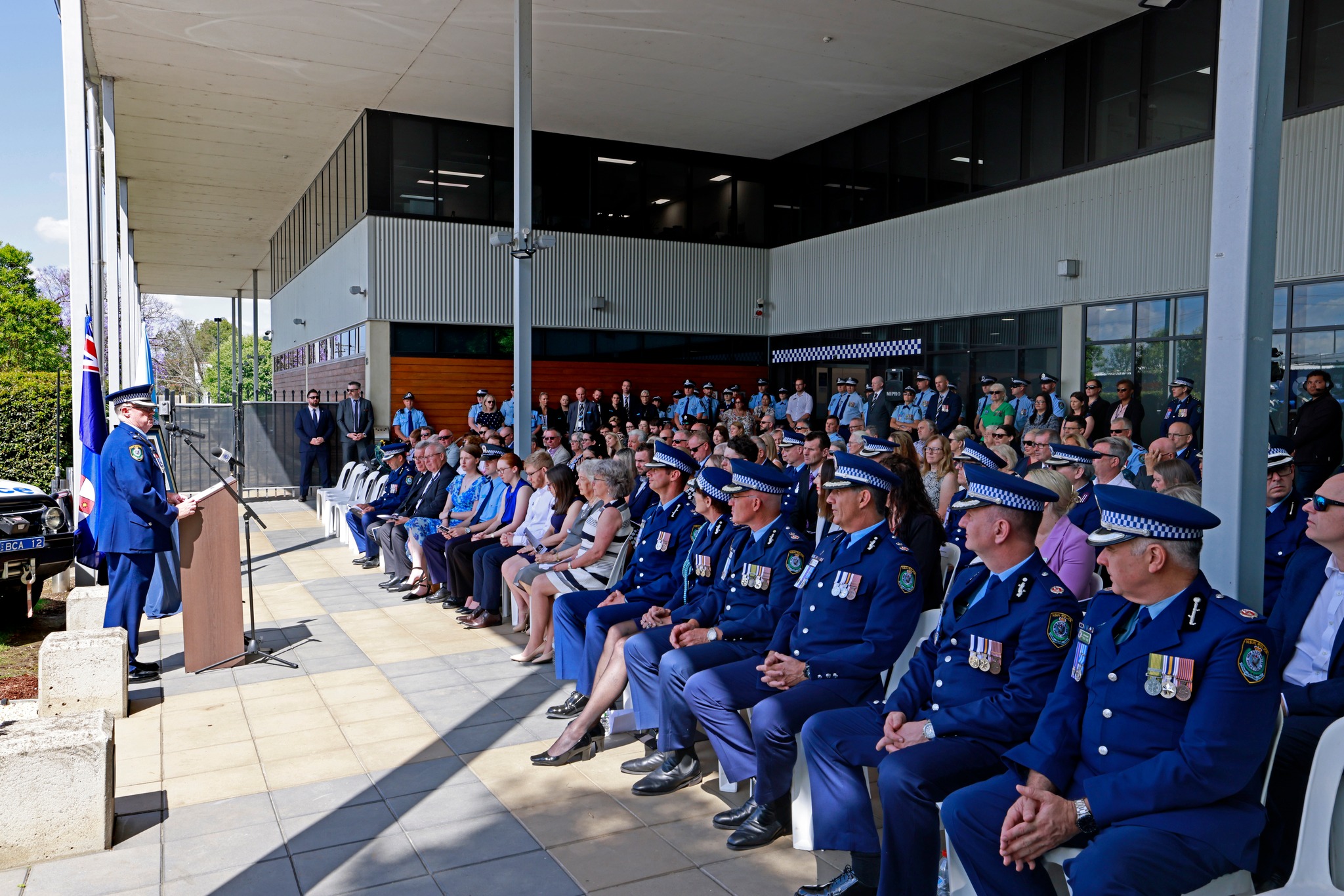 "Today's unveiling of the Bryson Anderson Police Memorial will help ensure Bryson's legacy will live on in the local community, and across the entire NSW Police Force."
Donna Anderson, Detective Inspector Bryson's Anderson's wife, said she was moved by the immense community support and that of his colleagues.
"To stand here 10 years on and to see the memory of Bryson honoured in such huge numbers is truly overwhelming and indicates just how truly respected Bryson was," she said.
"Bryson's murder has received significant attention on a level that was hugely overwhelming to my family and me; however, it was extremely comforting to know that we had the support and love of our family, friends, the community and the NSW Police Force.
"It is human nature to forget as time goes by. With this memorial, we will make sure everyone knows what a great man Bryson was and what he meant to us all," she said.
Below is the link to the Memorial Service.