In 2019 during the black summer fires, Bilpin was razed by bushfires with the Gosper's Mountain Fire sweeping through and destroying much of the Bilpin Fruit Bowl orchards.
These orchards weren't the only "pick your own" farm impacted in the area with other farm being impacted along with residents who live In the area, some even losing their homes.
To drive through Bilpin today, there is little evidence of the fires that raged through the Blue Mountains and Hawkesbury in 2019 but what does remain is a series of billboard sized photos along the entrance to the Bilpin Fruit Bowl Orchards that pays tribute to those impacted by the fires including brides who sit on a couch surrounded by burnt trees as well as photos of the true heroes of the 2019 black summer fires – the RFS volunteers who willingly put their lives on the line to save the lives and properties of others.
Bilpin is the heart of apple country with the right nutrient-rich soil and cool mountain air for producing the best apples in the State. Along Bells Line of Road, you can find a series of "pick your own" fresh produce farms as well as a multitude of quirky little cafes selling fresh hot apple pies along with other tasty treats.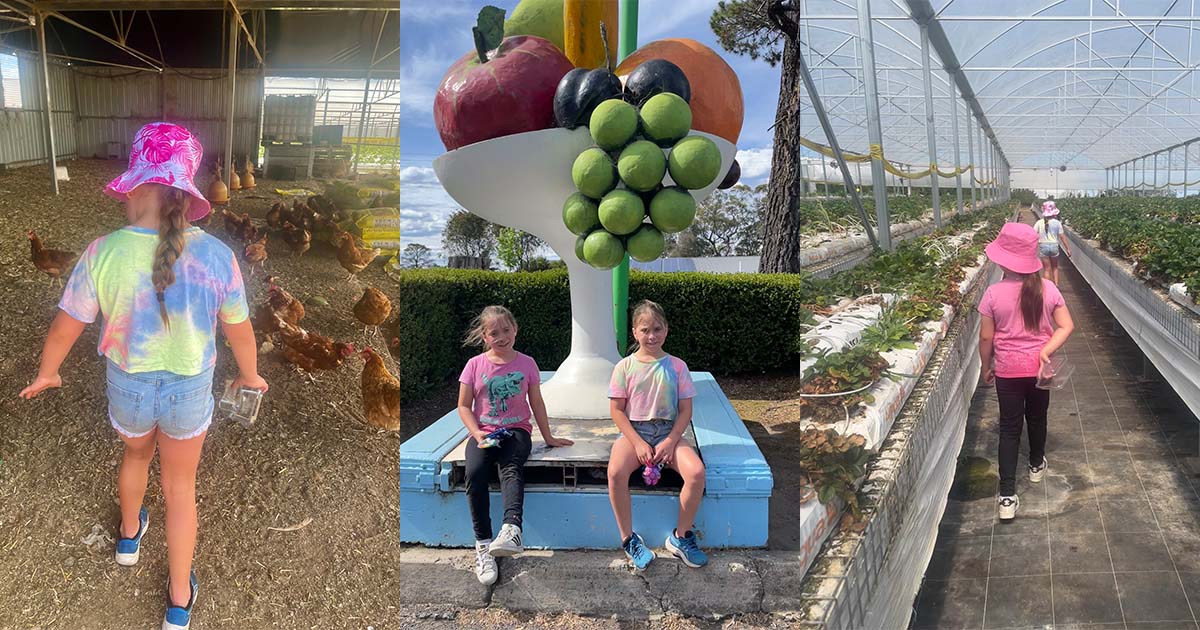 Bilpin Fruit Bowl, a family operated farm, is one of our favourite places to visit. The produce you ate able to pick varies during the time of year, however strawberry picking is available all year round thanks to the state-of-the-art hot houses that were built on site during the lock downs.
On our most recent visit, we wondered the farm, sampling produce whilst deciding on what strawberries, apricots, zucchini and zucchini flowers to take home. Another attraction at Bilpin free bowl, is the free-range chickens that happily wonder the farm and the opportunity to collect your own free range eggs straight from the farm.
After a couple of hours exploring the farm and collecting eggs, we enjoyed playing in the small playground whilst visiting the café and tourist shop which sells locally produced fruit, honey, candles and chopping boards as well as tasty pies and coffee.
Bilpin Fruit Bowl, forms part of the Bilpin's Apple Pie trail with at least 13 farms and cafes to stop at along the way. The trail is also known for its famous non-alcoholic ciders on offer. We can't wait to explore more of the Apple Pie Trail especially during apple harvesting season which occurs in Autumn and to support our rural small business owners.
As we face another tough summer, with 89 fires currently burning around the state, fingers crossed that Bilpin (along with other parts of our region) will not be impacted by fires this season.