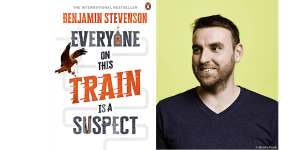 Join writer-comedian Benjamin Stevenson in an evening talk about his latest book, Everyone On This Train Is A Suspect, at the Pioneer Theatre on Tuesday, 5 December 2023.
His most recent work once again follows Ernest Cunningham, this time with a more exciting plot featuring a set of writers trying to solve a crime they all have the knowledge of doing.
It continues the story of his bestseller, Everyone in My Family Has Killed Someone, for which HBO bought the film rights, thus paving the way for a future TV series.
"For fans of Richard Osman and Anthony Horowitz, a fiendishly fun locked room murder mystery from the author of the indie darling Everyone in My Family Has Killed Someone —this time set on a train full of mystery writers, agents, editors, and fans," the synopsis read.
"Ernest Cunningham returns in a deliciously witty locked room (train) mystery."
Tickets cost $9 and can be reserved online via Eventbrite: An Evening with Benjamin Stevenson. The Pioneer Theatre is located at 14 Pennant Street in Castle Hill.
Benjamin Stevenson is a stand-up comedian and author who has won numerous awards. His debut crime fiction novel, Greenlight, was a finalist for the Ned Kelly Award for Best Debut, while his second novel, Either Side of Midnight, was a finalist for the International Thriller Writers Award for Best Original Paperback.
"Everyone In My Family Has Killed Someone," made it to the shortlist for three prestigious awards: the Dymocks Book of the Year 2022, ABIA General Fiction Book of the Year 2023, and BookPeople's Fiction Book of the Year 2023. It was also recognized as one of The Sunday Times's best crime novels of 2022.