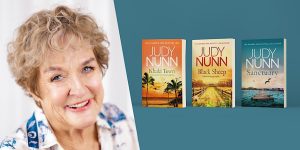 Author Judy Nunn will have a talk about her new book, Black Sheep, in an evening chat at the Pioneer Theatre on Wednesday, 15 November 2023.
Organised by the Hills Shire Library Service, the discussion will be about the bestselling author's latest historical novel featuring the story of a sheep-farming family and its 'black sheep.'
"From the Shearing Wars of Queensland to the exclusive gentlemen's clubs of Sydney, Melbourne and London; from the woolsheds of Goulburn, to the trenches of the Western Front, Judy Nunn once again brings Australian history vividly to life," the synopsis read.
The talk will begin at 6:30 PM and end at 7:30 PM. Books for selling and author signings will be available after the chat.  
Tickets cost $9.00. Reservations can be made online via Eventbrite here: An Evening with Judy Nunn
The venue will be on the first floor of the Pioneer Theatre, located at 14 Pennant Street in Castle Hill, 2154.