By Bev Jordan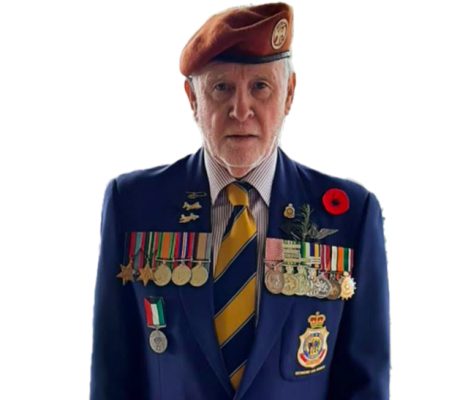 For Peter "Pedro" Inglis the annual Sunday Anzac Day march through the streets of Richmond is a very special day.
This year the Sunday ANZAC service at Richmond is on April 16th and the retired Warrant Officer with 46 years of service will be marching to remember all service personnel who have lost their lives in war time and peace.
He was just 18 years old when he signed up to join the RAAF in July 1968 after two years working on a farm and although it was during the Vietnam war he never served there.
His service included Gulf War 1 and 2, Peacekeeping tours of the Sinai, aid deliveries to New Guinea and Somalia and operations in Iraq and Kuwait. He has also been involved in winching people to safety in flood zones and received an Imperial Award for Bravery from Queen Elizabeth II.
Starting as a clerk he then trained as a crewman with Iroquois helicopters and survived two crashes during operations, which left him with multiple broken bones.
After 10 years on helicopters he worked with C-130 Hercules and trained as a Loadmaster before moving onto Boeing 707s and the Boeing Business Jet where RAAF crew were responsible for transporting VIPs across the country and overseas including Prime Ministers and Governors General. One of his most moving trips he says was taking the then PM Paul Keating to unveil a memorial in Sandakan in Borneo where over 2,000 allied prisoners were made to march 260km to Ranau as World War 2 was ending. Only six Australians survived.
"We flew the six survivors to the ceremony on 10th July 1995. It was very moving."
Peter has a real passion for war history and remembering the sacrifices made. He has spent ANZAC Day at ANZAC Cove in Gallipoli and while in the Sinai spent ANZAC day in Beersheba, where the famous Australian Light Horse Charge captured the garrison in October 1917.
His father served as a commando in the Z Special Unit in World War II, a joint Allied special forces unit formed to operate behind Japanese lines in South East Asia, but he didn't speak to his son about his wartime service until he was in his 70s.
Peter says: "To me ANZAC services are an appreciation of what our forebearers have gone through," said Peter.
"Most people who join Defence hope they never see combat but they do. It's important for me to recognise those guys who were killed during training exercises. There were many."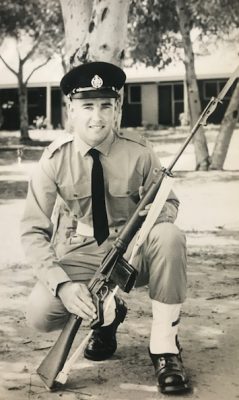 SERVICES SUNDAY, 16th April: Richmond
March starts from outside the Richmond RSL sub-branch premises at 24 West Market Street at 2.30pm the commemorative service will be at Richmond War Memorial at approximately 3pm.
Members of the public with a descendent involved in any form of action of any conflict are invited to participate in the march wearing the medals or carrying a photo or displaying the name of the person.
Organisers are also encouraging members of the community and their families to attend the commemoration and line the streets around the park to support those in the procession in recognition of those who served and those who are still serving the country. Veterans from Windsor RSL sub-branch will be joining the march and service with over 300 marchers expected and up to 80 veterans.
SUNDAY APRIL 23rd: Galston
Sunday ANZAC Service the Galston Memorial Club. The ANZAC service, concert and afternoon tea has been a tradition at Galston for many years.
Organised with the Hills District RSL Sub-branch, the service starts at 2.15pm. The address will be given by Matt Kean MP. The service and wreath laying will be followed by a recital by the Hills District Pipe Band and afternoon tea. Seating is limited.
TUESDAY April 25th
• 5am: Richmond RSL Sub-branch: ANZAC dawn service will be at 4:45 for a 5 am start at Richmond War Memorial in Richmond Park on Tuesday 25th of April
• 5.30am: Riverstone-Schofields Branch of the RSL ANZAC service at the Riverstone Cenotaph located on Riverstone Parade, Riverstone. Wiseman's Ferry ceremony is at 5.30am with attendees asked to gather at 5.15am
• 6am: Windsor and District RSL Sub-branch: McQuade Park Cenotaph Windsor. Castle Hill RSL Sub-branch: Dawn Service at Centenary of ANZAC Reserve at Wright Road, Castle Hill (Opposite Kellyville Shopping Village). Attendees are asked to arrive by 5.30am. More information and story on page 19. Hills District RSL chapter: Galston Cenotaph. Lt Commander Steve Pringle giving the address.
• 9am: Pitt Town, Memorial in Bathurst Street and Wilberforce War Memorial.
• 11am: March from Wisemans Ferry Police Station. March, led by the Pipers, will proceed down the main street the ANZAC Cenotaph situation.