By Gisela Horner Friends of Bella Vista Farm Volunteer
Here is a treasure of life experiment with Marie Whetton
Marie Whetton is passionate about Bella Vista Farm. "I just get the feeling of calmness … I feel the physical presence of those who once lived there".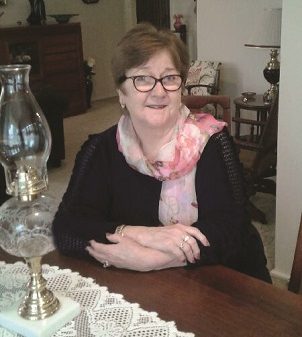 Marie's great grandfather arrived from Ireland at the age of nine in 1851 and the family purchased a farm near Bathurst. He married Mary Cranston, and they had 11 children, one being Marie's grandfather George Kennedy. Her grandparents kept the farm and she remembers visiting as a child.
Bathurst is close to Marie's heart and the family returns for ANZAC Days and family reunions.
Her father, Kevin was a motor mechanic in Bathurst but moved the family to Sydney after Marie's two older brothers and sister left home.
It was Marie's mother who saw an advertisement for an undertaker in Lakemba which came with living quarters. Later they moved to Blacktown to the Guardian Funeral Home.
Marie's father was a compassionate and much-respected man in the funeral industry and when the firm relocated – the Kevin Maloney Reflection Room was named in his honour.
Marie and her future husband Geoff were school friends. After their Intermediate exams Geoff got a printer's apprenticeship and Marie left, intending to return the following year.
Her parents agreed that if she got a job in the school holidays, she could continue working. She got a job in a pharmacy at 16 and continued working there for many years.
Marie and Geoff had started courting in 1966 and in 1971, married. 1972 was a big year. They built their house in Baulkham Hills and had their first child – Rebecca. Two years later they had twins, Daniel and James.
Marie says she was very large during her second pregnancy. Many specialists confirmed her baby had a pre-birth weight of 16lbs! At the eleventh hour, it was revealed she was having twins.
The couple had chosen the name Daniel James for a boy so with twins: one was named Daniel and the other James. Marie was too exhausted to think further! By coincidence –her grandfather Don, was actually christened Daniel James.
In the mid 80s, Marie joined her friend Maureen and husband Barry in their family business, working in customer service, later in accounts and office supervisor.
Marie and Maureen are still close friends and love volunteering. They joined Bella Vista Farm three years ago and, along with Marge, have created a successful Trash and Treasure stall, with all profits going to Bella Vista Farm. With their love and knowledge of beautiful china, glassware and old treasures the items are of high quality. Royal Doulton and Villeroy & Boch can be found along with DVDs, toys and books. Bella Vista Farm is lucky to have their expertise and enthusiasm.
Next Open Day at Bella Vista Farm is Sunday May 2, and celebrates Heritage Day. Gates are open from 9am to 3pm. Entry to the grounds is free. COVID rules are observed. The 'Friends' will greet you dressed in period costume. Enjoy a Devonshire Tea and listen to classical music performed by the Hills Shire Symphony Orchestra. Tour the house for a gold coin donation and browse the Trash and Treasure Stall.
The Farm is on the corner of Elizabeth Macarthur Drive and Norwest Boulevard Bella Vista. If you are interested in becoming a member, email [email protected]