[vc_row][vc_column width="1/6″ offset="vc_col-lg-1/5 vc_col-md-1/5 vc_col-xs-1/5″][us_image image="67173″ size="thumbnail" align="left" style="circle" has_ratio="1″][/vc_column][vc_column width="1/12″ offset="vc_col-lg-4/5 vc_col-md-4/5 vc_col-xs-4/5″][vc_column_text]By
Bev Jordan
[/vc_column_text][us_post_date][/vc_column][/vc_row][vc_row][vc_column][vc_column_text]
Extreme heat and how to minimise it will be the focus of a $1.3million Heat Task force being set up by the Western Sydney Regional Organisation of Councils (WSROC) the peak body representing local councils in Greater Western Sydney.
One of the initiatives the Taskforce will be looking at is building heat resilience into urban planning and development.
WSROC President and Hawkesbury City Council's Deputy Mayor Councillor Barry Calvert said: "Except for disease epidemics, extreme heat events are Australia's worst natural hazard for human deaths."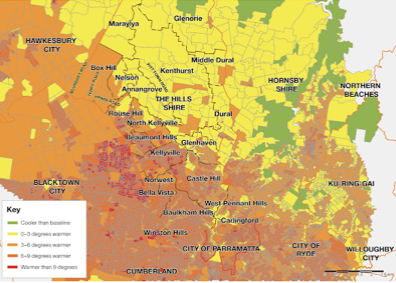 Between 2001 to 2018 in Australia, at least 473 heat-related deaths were reported to a coroner, of which 354 occurred during heatwave conditions, according to a 2022 study reported in the International Journal of Disaster Risk Reduction.
Heat Maps dating from 2016 _ three years before the Sydney Metro opened and developments started around the stations from Cherrybrook to Tallowong _ already showed a high heat rate score of 4 (just below vulnerable) for numerous suburbs in the North-West region including Richmond, Windsor, Kellyville Ridge, Castle Hill and Stanhope Gardens.
The Greater Sydney Heat Taskforce will focus on urban design, improved governance and support programs.
Clr Calvert said: "Heat-related impacts are expected to substantially increase as average temperatures rise and heatwaves become more severe, frequent and last longer, largely due to climate change.
"Heatwaves place significant strain on community services, and essential infrastructure — including energy grids, hospitals and transport networks.
"Rising average temperatures are also worsening cost-of-living and quality of life in our local communities – as summers become longer and hotter," said Clr Calvert.
In addition to reviewing heat risk governance the Taskforce will also support WSROC with implementation of three projects:
Cool Suburbs NSW — a rating and assessment tool for building heat resilience into urban planning and development.
Heat Risk Methodology Project — to develop a methodology for holistic, place-based assessment of heat risk for use in local emergency management planning, and Local Heatwave Planning Guidance Project — to develop resources and training for local government, defining its roles and responsibilities in heatwave emergency planning, including its interaction with Local Emergency Management Committees and community organisations.
Extreme temperatures have resulted in Hawkesbury City Council agreeing to extend the opening hours of Hawkesbury Central Library and Richmond Swimming Centre on weekends to provide somewhere cool for residents to go on days of 40-plus degree heat.
A spokeswoman said: "Council has received positive feedback from this initiative since it was first activated to help residents find a way to stay cool during heatwaves."
"Hawkesbury City Council is glad to be a program partner in WSROC's Heat Taskforce," Hawkesbury Deputy Mayor Barry Calvert said.
"It's great news that the NSW and Australian Governments are providing $1.3 million in grant funding to set up the new Taskforce and a firm acknowledgement that extreme heat and heat waves have a huge impact on our communities, with climate projections showing extreme heat events are occurring with greater intensity.
"Richmond hit 47 degree Celsius in February 2017, and the hottest temperature we've had this February has been 37.8 degree Celsius – both according to the Bureau of Meteorology."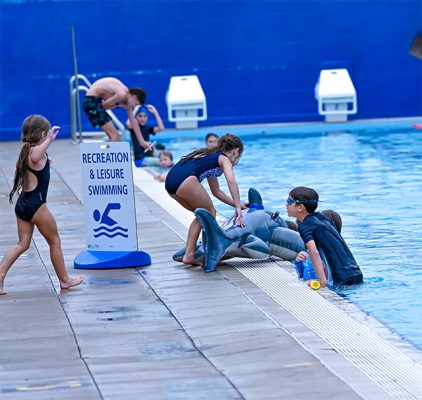 [/vc_column_text][/vc_column][/vc_row]