[vc_row][vc_column width="1/6″ offset="vc_col-lg-1/5 vc_col-md-1/5 vc_col-xs-1/5″][us_image image="67208″ size="thumbnail" align="left" style="circle" has_ratio="1″][/vc_column][vc_column width="1/12″ offset="vc_col-lg-4/5 vc_col-md-4/5 vc_col-xs-4/5″][vc_column_text]By
Gisela Horner
[/vc_column_text][us_post_date][/vc_column][/vc_row][vc_row][vc_column][vc_column_text]When you first meet Jack Theakston, you are aware of his thoughtful, quiet demeanour. Jack is 16, a tall, mature, young man, who prefers to play his music rather than indulge in conversation.
Jack attends The Hills Grammar School. He is on a full Music Scholarship which he auditioned successfully for when only nine. Historically, the school only takes scholarship students from Year 7. However, Jack was an exception and was accepted in Year 4. He likes school, is academically bright particularly in Maths, Science and English. He enjoys playing basketball, volleyball, reading and board games. He would like to pursue a music career, but for now is keeping his options open.
When COVID hit, Jack coped well through Years 8 and 9 in the school lockdowns as he was able to practise his music for two to three hours every day and found doing home school not a hardship, even though the internet was 'very sketchy' at times. Now back in normal school hours, he devotes at least an hour and half every day for practise.
Jack has a scholarship with The Rising Stars program at the Conservatorium of Music, 'a dynamic performance-based music education program providing gifted schoolage students with specialist tuition in a supportive environment that helps develop their musical and artistic skills and performance opportunities'1. Jack auditioned playing 'Élégie' in C Minor by Faure, a beautiful slow piece highlighting cello accompanied by piano. He went straight into the Senior Level aged nine. He was studying both organ and cello at the Con, but organ tuition has ceased due to more time needed for Year 11 studies. He continues with the cello tutored by Susan Blake.
Jack avoids the term 'child prodigy' but others have recognised his pure talent. He plays a rare Virgilio Capellini cello (the last one made in Cremona, Italy) and a Guillaume bow, both of which are on permanent loan to him. Through his sponsorship, Jack is recognised as the youngest to ever receive an instrument of this value and quality.
Jack's supportive parents, Deborah and Tim, recognised Jack's ability around the age of three. He could read novels before he began kindergarten and at six, Hanna Oblikov, became Jack's teacher. Seeing his potential, she was prepared to teach such a young pupil and Jack began with a ¼-size cello. By seven, he was also playing piano and organ. From 12, he progressed to a full-size cello.
Jack is the youngest of five children, Laura (a nurse), Matthew (chef), Jessica (at Uni doing Maths/Science) and Samuel (landscaper). His siblings are not particularly musical but all are doing well in their pursuits and living independently. Although Jack is the youngest, he is very independent, a seasoned traveller and has already undertaken performances too numerous to mention here.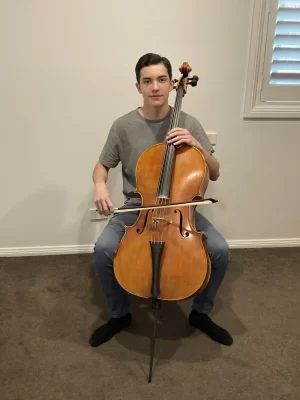 Recently Jack has been successful in being selected to perform recitals at the National Youth Concerto Competition in October in Brisbane. NYCC is recognised as the most prestigious competition in Australia for string soloists aged up to 18, established by Queensland Youth Orchestras2. Jack will be playing a selection of four pieces including 'At the Fountain' by Davidov; Sonatas by Hindemith and Francoeur and 'Romances' by Schumann.
Jack belongs to two chamber groups – 'Bajeshka' – a piano quartet who will embark on a trip to NYC to perform at Carnegie Hall in June 2023. The second group, 'Piccolo' – a string quartet, have won a 12-month mentorship with the Flinders Quartet and will be undertaking this in Melbourne in 2023 along with studies for Year 11; a somewhat busy schedule that would daunt most people.
Although he claims to be shy, Jack has already performed at many concerts. Once he is on stage, he is unphased. He reflected on his music and said: "When I play cello, I feel a sense of euphoria and you can escape reality".
A very wise head on young shoulders. We wish Jack success and a continuing glowing musical career.[/vc_column_text][/vc_column][/vc_row]