Hawkesbury City Council is designing a new Woodbury Reserve BMX Pump Track and bike trails to be built at Woodbury Reserve in Glossodia, and we want residents to have their say on the plans.
The new riding facilities are part of the $9 million redevelopment of the 19.2ha reserve, with funding secured through the State Government's WestInvest program ($5.42 million), the State Government's Open Spaces Program: Places to Play grant ($455,000) and the Federal Government ($3 million).
The need for the facilities was identified by the community as part of the development of the Woodbury Reserve Masterplan in 2021. In consultation with the Hawkesbury Hornets BMX Club and its members, a draft design has been created for the broader community to view and provide feedback.
Residents can view the plans and leave their feedback at www.yourhawkesbury-yoursay.com.au/woodbury-reserve-bmx  or at Council's tent at the Hawkesbury Show (28-30 April) until 5pm Sunday 30 April.
Hawkesbury City Mayor Sarah McMahon said it was clear from community feedback that there is a big demand for pump tracks, riding trails and bike paths in the Hawkesbury.
"That is why we are bringing online a number of new and improved bike riding opportunities over the next few years," Mayor McMahon said.
"Woodbury Reserve will get an exciting BMX pump track and formalised riding trails. We are also well advanced in designing a BMX pump track for Colonial Reserve in Bligh Park, and we will soon begin designing a new BMX track at Peel Park in North Richmond.
"For our road riders, we will complete the shared path link between Windsor and Richmond with a new pedestrian and cycling bridge over Rickabys Creek and extend the shared path from North Richmond with the Kurmond to Kurrajong cycleway – both WestInvest projects."
"These are just some of the ways that we are creating more opportunities for locals to get outdoors to stay fit and healthy and have fun."
The pump track and trails at Woodbury Reserve will form part of a new recreational hub in Glossodia which will be delivered over the next 24 months. Upgrades to Woodbury Reserve include:
New playground
New multi-purpose sports courts
Upgraded amenities building and additional new building
Improved and additional parking within the site
Shared path network with better connections
Improved access to natural areas
Additional shelters with barbecue facilities
Designated dog off-leash area
Learn more about Council's WestInvest projects at https://www.hawkesbury.nsw.gov.au/for-residents/westinvest-projects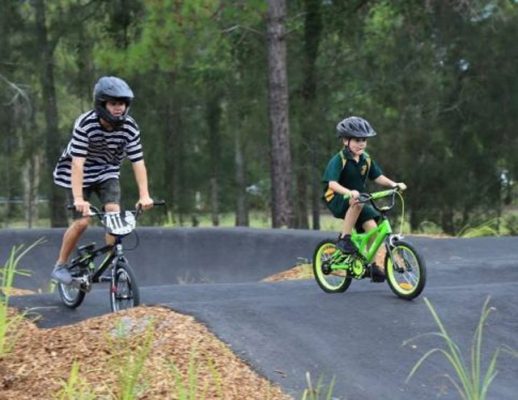 Source: Hawkesbury City Council