[vc_row][vc_column width="1/6″ offset="vc_col-lg-1/5 vc_col-md-1/5 vc_col-xs-1/5″][us_image image="67486″ size="thumbnail" align="left" style="circle" has_ratio="1″][/vc_column][vc_column width="1/12″ offset="vc_col-lg-4/5 vc_col-md-4/5 vc_col-xs-4/5″][vc_column_text]By
Lawrence Machado
[/vc_column_text][us_post_date][/vc_column][/vc_row][vc_row][vc_column][vc_column_text]
The 2022 Premier Women's AFL Division crown in AFL Sydney is so close to their grasp that the East Coast Eagles can virtually touch it.
The Eagles have been outstanding since being promoted to the premier competition in 2019, being the dominant team for the past three seasons without a major trophy to show for it.
They are hoping to lift their breakthrough title this Sunday, August 28, at Henson Park, Marrickville, at 1:50pm. The Eagles, coached by their former marquee player Renee Tomkins, will take on their nemesis, the Manly Warringah Wolves, who beat them twice in the regular season.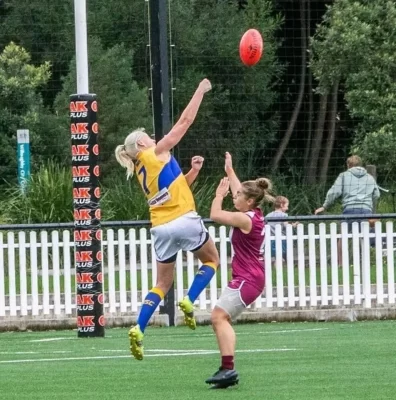 Tomkins or Tonks as she is fondly known in the club, is quietly confident her team can hold off the Wolves and bring home the AFL title to Kanebridge Oval, Rouse Hill.
"We pride ourselves on our ability to compete and take the game on," Tomkins said.
Manly is a very good team, but if we defend hard, we believe we have the attacking options to kick a winning score.
"The Sydney AFL Women's competition keeps getting stronger every year and it is a credit to our club, the players, and coaches that we are competing for the premiership this weekend. Winning a premiership would be an incredible accomplishment especially following the two previous COVID-19 interrupted seasons."
Tomkins' optimism is backed by the overall form of the Eagles who soared to the top of the table this season, finishing a game clear atop the ladder and only being defeated four times. It has been a very impressive ride by the East Coast women because the first female side was only introduced to the club in 2017, making it through the finals that season. The club now boasts of three quality women's teams.
The closest the highly fancied Eagles came to Premier Division glory was in 2019 when they were very narrowly defeated by Macquarie University. That same year, however, the Eagles' second division side crushed Macquarie University in the grand final to give the club it's first women's title.
In 2020, the Eagles Premier Division team were upset by Inner West Magpies in a preliminary final, only third loss of the season. In 2021, the Eagles were the team to beat, being undefeated at 10-0 before the season was abandoned due to COVID lockdowns, which was a bitter blow for the runaway leaders.
You can cheer on our brave Eagles this Sunday in the women's Premier Division grand final, from 1:50pm at Henson Park, Marrickville.[/vc_column_text][/vc_column][/vc_row][vc_row][vc_column][us_image image="69005″][/vc_column][/vc_row]