[vc_row][vc_column width="1/6″ offset="vc_col-lg-1/5 vc_col-md-1/5 vc_col-xs-1/5″][us_image image="67173″ size="thumbnail" align="left" style="circle" has_ratio="1″][/vc_column][vc_column width="1/12″ offset="vc_col-lg-4/5 vc_col-md-4/5 vc_col-xs-4/5″][vc_column_text]By
Bev Jordan
[/vc_column_text][us_post_date][/vc_column][/vc_row][vc_row][vc_column][vc_column_text]
Four brand new Junior Sport Wheelchairs donated to the Hills Hornets Wheelchair Basketball Association's Hornet's Academy have been in action already.
Directors from the Castle Hill RSL Group (CHRG) visited the Hills Hornets' at their Dural site to surprise the Wheelchair Skills group at their Christmas Party with the $17,500 gift.
CHRG's President, John Payne said: "Castle Hill RSL Group has a long association with the Hills Hornets and we are excited we can now assist with their Wheelchair Skills Program.
"By supplying the Hornets with more chairs, we are providing more kids with access to this wonderful program. It's so important for all kids to play a sport they love, even more so for kids living with disabilities.
"A donation like this has long-lasting positive health impacts and CHRG is thrilled we've been able to provide kids in our local area with increased access to such an inclusive program."
Wheelchair Sports NSW/ACT applied for funding. Danielle D'Morias, Hills Hornets Development Manager, said the Hornets Academy Basketball Wheelchair Skills Program was created in 2020 and has grown from 1 to 15 participants.
The free program is designed to provide girls and boys from the age of 5 upwards the opportunity to learn basic chair, fundamentals and game play skills required for basketball. It runs during the school Term for 9 weeks.
"Wheelchair Sports NSW enable us the opportunity to supply sports wheelchairs for the participants however chair quantities don't always cover the number of athletes. Having the Castle Hill RSL generously donate the funding to be able to provide more chairs as well as maintenance equipment was an incredible opportunity and one that will benefit the program, participants and sport greatly," she said.
Hills Basketball Association was able to hold the inaugural Junior Wheelies Hub Days in 2022 where participants 16 years and under were able to participate in their own round robin competition for the first time in NSW. Most junior wheelchair athletes due to lack of athletes and resources often have to play in adult competitions or not at all. She said it was exciting to be able to provide the participants the opportunity to compete with their friends and fellow club members
Hornets Academy Wheelchair sessions are held on Saturdays at Hills Hornets Dural. For program information visit hillshornets.com.au or call 9894 8944.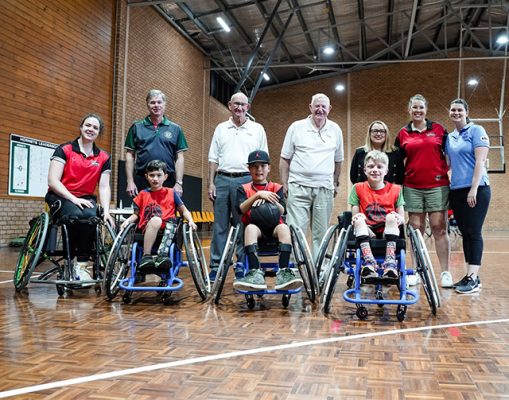 [/vc_column_text][/vc_column][/vc_row]