[vc_row][vc_column width="1/6″ offset="vc_col-lg-1/5 vc_col-md-1/5 vc_col-xs-1/5″][us_image image="67173″ size="thumbnail" align="left" style="circle" has_ratio="1″][/vc_column][vc_column width="1/12″ offset="vc_col-lg-4/5 vc_col-md-4/5 vc_col-xs-4/5″][vc_column_text]By
Bev Jordan
[/vc_column_text][us_post_date][/vc_column][/vc_row][vc_row][vc_column][vc_column_text]A Multi-million dollar funding boost is set to provide a recreational bonanza for residents in north western Sydney with new pools, parks, sports fields, cycling and walking tracks in the pipeline as part of the State Government's $5 billion WestInvest program.
Hawkesbury City Council was successful in securing $75.4 million for five major projects which include $30.3 million for the redevelopment of Richmond Swimming Centre, $9.8 million for the Tamplin Field Redevelopment at Hobartville, $6.7 Million for improvements to the Oasis Aquatic and Leisure Centre at South Windsor and $4.7 million for a new Cycleway Bridge over Rickabys Creek to link Richmond and Windsor town centres.
Hills Shire Council has secured $6.6 million including $1.09 million for a Livvi's Playground extension at Bernie Mullane Sports Complex in Kellyville.
The announcement by Premier Dominic Perrottet and Treasurer Matt Kean included:
• $30.3 million for the redevelopment of Richmond Swimming Centre to include indoor and outdoor aquatic space, splash feature park, increased shade areas and picnic facilities
• $6.7 million – Oasis Aquatic and Leisure Centre Improvements, including children's splash park, shallow depth pool, solar heating plant, climbing wall facility, covered deck connecting change rooms to the café outdoor area, extended child-minding area including soft fall, additional carparking, outdoor gym and water harvesting tanks onsite
• $23.9 million – North Richmond Community Precinct upgrades – new library, indoor sports stadium incorporating netball, basketball, futsal and volleyball and performing arts studios
• $9.8 million – Tamplin Field Redevelopment – new synthetic field with off-field grass spaces to include premier league soccer, rugby league, little athletics, dog training, school sports and personal trainers
• $44 million – YMCA – Y Yarramundi camping conference and outdoor education retreat redevelopment •• $5 million – Autism Spectrum Australia – new autism specific primary school in Box Hill
• $1.6 million – Scout Association of Australia NSW – new scout hall at Kurrajong, camping amenities, carpark upgrade, landscaping, tree lighting and tree planting
The $75.5 million in newly-announced projects is on top of the $16.8 million in projects announced in November.
Hawkesbury City Mayor Sarah McMahon said these projects would transform the region and deliver much- needed social, health, lifestyle and flood resilience benefits to the entire community.
"These projects will replace and update much-used but tired and outdated facilities that will be enjoyed for generations to come. Local families, adults, children, grandparents, sporting clubs, cyclists, those who enjoy organised and individual fitness activities – there will be something for everyone with these new projects.
"It will also add critical flood resilience for residents west and north of the river by providing a hub that quickly converts into a purpose-built evacuation centre whenever it is needed.
"A lot of work has already been done by Council staff in preparing these projects, meaning that we can expect work to begin over the next 12 months. I thank the State Government for this funding that will make these amazing projects a reality."
Previously announced projects include the development of Fernadell Park in Pitt Town, redevelopment of Woodbury Reserve at Glossodia, the Kurmond to Kurrajong Cycleway, and the Hawkesbury Wayfinding Project.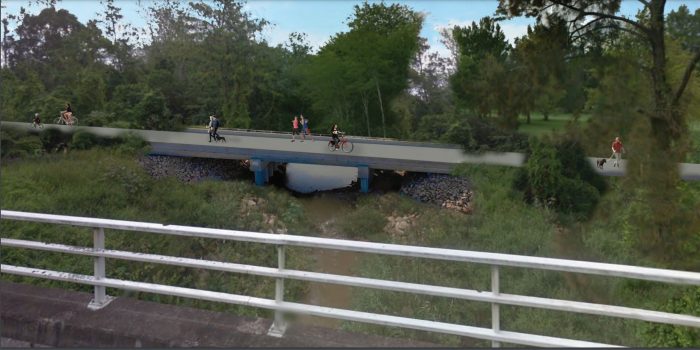 Hills projects include:
• $4.6million for Castle Hill Showground pedestrian bridge
• $1.09 million. For Livvi's Playground extension at Bernie Mullane Sports Complex, including an amenities building and new playground equipment.
• $999,595 t for Baker Crescent shops in Baulkham Hills, including design and rejuvenation of street and shop frontage, including McBurney Reserve.
Hills Mayor Peter Gangemi said the planned pedestrian bridge will improve access from the Castle Hill Showground into Fred Caterson Reserve.
"[It will] enhance safety for both pedestrians, cyclists and vehicles. This is particularly important with more residents moving into the State Government's Showground Precinct and using the sporting facilities within the Reserve.
"Livvi's Place is a much-loved all abilities playground. This funding will allow Council to complete stage two of our planned upgrade, which includes additional playground equipment, such as a flying fox with an accessible harness seat, more picnic facilities and seating, as well as a water refill station and a new amenities block which will cater to families utilising the playground."
Hawkesbury MP, Robyn Preston MP said: "Hawkesbury's project dreams will now become a reality."
Mr Perrottet said the projects will change the face of the Western Sydney community.
"This is all thanks to the $5 billion WestInvest program is made possible by the Government's successful WestConnex asset recycling strategy," Mr Perrotett said.
More than 680 applicants submitted a WestInvest application to the value of more than $7.9 billion.
The projects announced last week are in addition to the 68 projects announced by the NSW Government late last year through the WestInvest Community Project Grants – Local Government Allocation when Hills Shire Council secured $15.5 million to build a new indoor recreation centre at the former Horseworld site in Box Hill.
[/vc_column_text][/vc_column][/vc_row]