[vc_row][vc_column width="1/6″ offset="vc_col-lg-1/5 vc_col-md-1/5 vc_col-xs-1/5″][us_image image="67486″ size="thumbnail" align="left" style="circle" has_ratio="1″][/vc_column][vc_column width="1/12″ offset="vc_col-lg-4/5 vc_col-md-4/5 vc_col-xs-4/5″][vc_column_text]By
Lawrence Machado
[/vc_column_text][us_post_date][/vc_column][/vc_row][vc_row][vc_column][vc_column_text]One of Riverstone Little Athletics' most passionate members, Vernon Cross, has been honoured with a sports field named after him.
Never one for accolades when he started volunteering at Riverstone Little Athletics' first season in 1982, he is now the toast of the town after the Vernon Cross Field was unveiled at Riverstone Park.
The new field was recently opened by Blacktown Mayor Tony Bleasdale in front of delighted family members, Riverstone LA and councillors Moninder Singh, Julie Griffiths and Kushpinder Kau.
Mayor Bleasdale said folks like Cross are the backbone of the community, the volunteers who get on with the job without asking for praise or reward. "He's the definition of a true volunteer, driven by giving back to his community and making his local club the very best it can be," Mayor Bleasdale said. "They are the smiling face that greets everyone on club night, the mentor for up-and-comers, and the inspiration to all.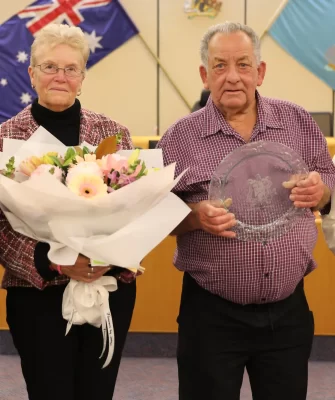 "Vernon's service is unique and it's only fitting that this field be named in his honour. Generations of runners, jumpers, throwers, hurdlers and shot putters owe Vernon their thanks.
Vernon, 77, is very humbled by it all. "It's a very nice gesture and this is something I never expected when I got involved at Riverstone LA in 1982 because of my daughter Charmaine," Vernon said. "My wife Althea was pretty excited too (with the field) while my grandson Harrison can't get over this because not everyone gets an award like this. "I love doing this job and I am now a mentor, having been club president for about 16 years and the Championship Officer for zone, regional and state carnivals until 2020."
Cross, who has another grandchild, Isla, showed his community spirit as a student at Blacktown Boys High School where he sold books and pens during the lunch hour and ran the library Last year, Cross received the prestigious Distinguished Long Service Award from The Voice of Sport NSW.
Among the other honours he has received were the coveted Volunteer of the Year by Athletics NSW, the Russel Magennis Award for Riverstone Schofields Sports Person of the Year and the Rouse Hill Times Service to Sports Award.
Cross, a life member of Riverstone LA, has overseen a new club house and equipment storage area, as well as upgraded long jump pits, discus and shot-put rings.
He represents the club at the Riverstone Schofields Memorial Club's sports council and Riverstone Park committee, where he also serves as president.
Riverstone LA counts Michael Barber, the husband/coach of two-time world javelin champion Kelsey-Lee, and Olympic silver medallist and Commonwealth Games gold medallist Melissa Wu, among their famous alumni.[/vc_column_text][/vc_column][/vc_row]