A Total Fire Ban will be in place for Greater Sydney and five other NSW regions effective from 0001hrs to 2359hrs on Sunday, 22 October 2023.
According to the NSW Rural Fire Service, the Fire Danger Rating on Sunday is forecasted to reach EXTREME. Fire Permits are also suspended.
Travel shall be reconsidered when going to fire risk areas while individuals must be alert and prepare a plan should fire reach their area and properties.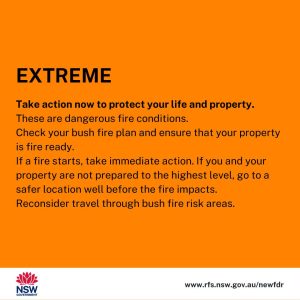 Total Fire Ban, or TOBANs, is announced during hot, dry, and windy conditions. During a ban, the RFS advises that no one shall light, maintain, or use a fire out in the open or conduct an activity that may cause a spark or fire. 
"General purpose hot works (such as welding, grinding or gas cutting or any activity that produces a spark or flame) are not to be done in the open," according to the RFS. To see the full extent of the Ban and its rules, visit the RFS website here.
Other regions with a TOBAN include North Western, Northern Slopes, North Coast, and Greater Hunter.
According to the Bureau of Meteorology's latest Sydney reports, Sydney's maximum temperature on Sunday is forecast to reach 30°C.
"Light winds becoming westerly 20 to 30 km/h in the morning then becoming light in the late evening," the Sydney forecast indicated. 
1 October sparked the official onset of the 2023 – 2024 bushfire season in areas such as Greater Sydney, Central Coast, the Illawarra, and Central West, the NWS RFS stated.