[vc_row][vc_column width="1/6″][us_image image="68668″ size="full" align="left" style="circle"][/vc_column][vc_column width="1/6″ offset="vc_col-lg-4/5 vc_col-md-4/5 vc_col-xs-4/5″][vc_column_text]By
Michelle Byrne
[/vc_column_text][us_post_date][/vc_column][/vc_row][vc_row][vc_column][vc_column_text]Having enjoyed our recent exploration of Wisemans Ferry, we decided to continue exploring historical townships along the Hawkesbury River whilst doing our bit to support small businesses.
Our latest adventure took us into the township of Windsor with a visit to the Hawkesbury Regional Museum, first on the list of things to do. The Museum houses a collection of historical artefacts that tells the story of the Hawkesbury Region over time including the importance of the Hawkesbury River, the land and its people. The permanent collection on display revolves around these themes and every artefact in the Museum whether it is part of the permanent collection or part of a special exhibition adds to the story.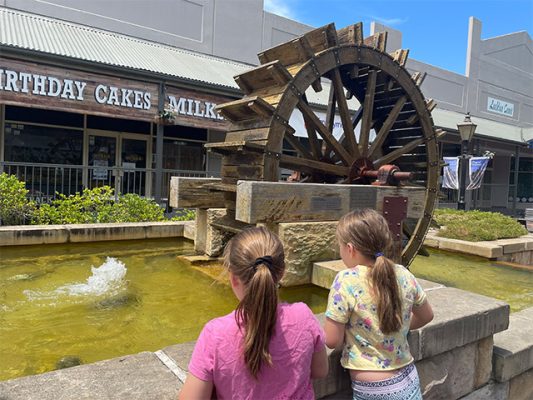 The collection contains Local, State and National historically important items including convict tools, indigenous tools and artifacts, items owned by pioneering families and early colonial Governors, items from the RAAF base including model planes as well as items such as the celestial globe was owned by the Internationally famous astronomer, John Tebbutt who lived in the Hawkesbury.
Our favourite exhibition currently on display is Paradise Lost, an amusement park that operated in Cattai from 1976 to the mid 80's. Much to my daughter's delight, Paradise Gardens biggest drawcard was the lifesized fibreglass replicas of dinosaurs that roared at visitors. The Museum collection contains a model replica of a dinosaur, photos and footage of the dinosaurs and other park attractions as well as information as to why the owners chose to make dinosaurs the focus of their theme park. However, it's the Flabbit display that has generated the most discussion in our family.
A Flabbit is a mythical creature unique to the Hawkesbury which has the body and head of a rabbit and the wings of a bird. In 1985, there was a reported sighting of the Flabbits in the wilderness at Colo attracting media and tourists all hoping to catch a glimpse of this unusual and obviously very shy and elusive creature. Although there has been no reported sighting since, the Flabbit continues to arouse curiosity and debate about its existence.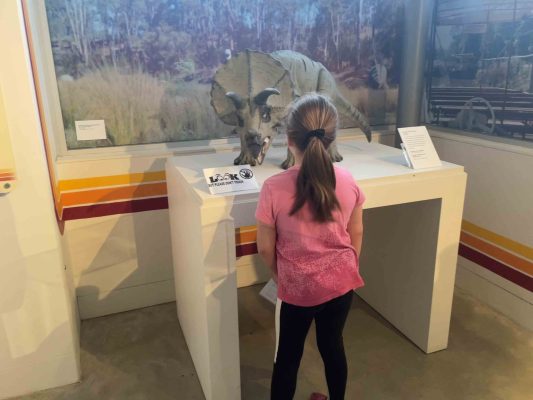 The Museum also runs school holiday activities based on the collections and we had fun searching the Museum for hidden Flabbits and answering questions about the display. There are also tours of the Museum and the exhibitions available for a small fee. It is well worth a visit.
No trip to Windsor is complete without a walkthrough the historic town centre with cafes and boutique stores. Our current favourite stores are Lollies n Stuff, the biggest candy store in Sydney that stocks lollies from around the world as well as Delicious Desserts where you can design your own soft serve ice-cream with over hundred toppings to choose from!
Windsor is a great place to explore and we can't wait to explore more of it very soon.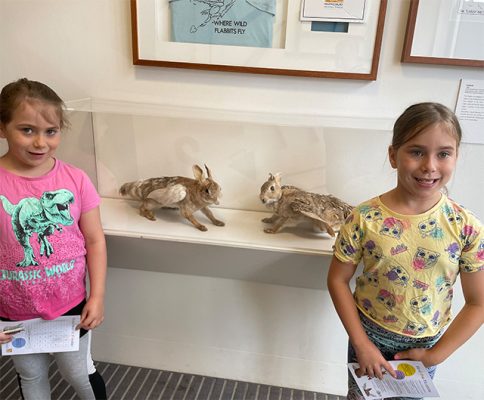 [/vc_column_text][/vc_column][/vc_row]