[vc_row][vc_column width="1/6″ offset="vc_col-lg-1/5 vc_col-md-1/5 vc_col-xs-1/5″][us_image image="67173″ size="thumbnail" align="left" style="circle" has_ratio="1″][/vc_column][vc_column width="1/12″ offset="vc_col-lg-4/5 vc_col-md-4/5 vc_col-xs-4/5″][vc_column_text]By
Bev Jordan
[/vc_column_text][us_post_date][/vc_column][/vc_row][vc_row][vc_column][vc_column_text]
An army of volunteers gathered at Castle Hill RSL (Thursday 6th October) for a Community Packing Event for the SuperTee Project
SuperTee founder Jason Sotiris said the small charity was "heavily dependent" on volunteers and he was delighted when so many dads from Hills District Dads turned up to enable their children to experience the benefits of volunteering.
"Without events like these we will not be able to help the number of children we can in different hospitals," said Jason. "It's always great to return to Castle Hill RSL who care deeply about their community and are always happy to support us." Jason came up with the idea for a specially designed super hero T-shirt for children undergoing hospital treatment when his eldest child spent nearly three years in hospital.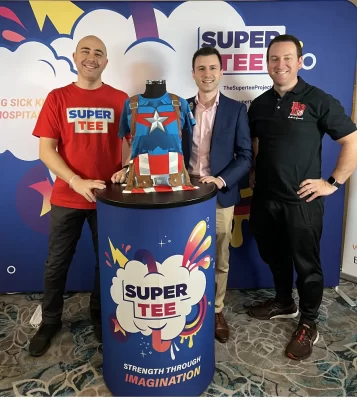 Angela was diagnosed with a rare type of cancer Langerhans Cell Hystiocytosis just a few weeks after her first birthday. He and his wife Vanessa were told she had a 20 percent chance of survival.
The early months in hospital watching her undergo treatment made Jason determined to create a garment that could be changed easily whether the patient was awake or asleep to make life easier for nurses and parents and reduce stress for the young patients.
The Super Hero style SuperTee was launched in 2018 with press studs for easy opening and closing and a cape that can also be used as a bib. Each SuperTee is packed in a colourful tin with stickers, a comic and a bookmark. The tins are given free to children in hospital. The 500 packed at Castle Hill RSL will be donated to Hawkesbury Hospital's Paediatric ward and Westmead Children's Hospital before Christmas.
Jason said: "We help on average 10,000 children a year which is nowhere near enough. Roughly 3,000,000 children visit our hospitals nationwide and you can take a guess of how many are facing life-threatening conditions.
My hope is that in the coming years we reach 30,000 and over. Whether it's volunteering or fundraising we need more help. Currently we need more people willing to help fundraise for Christmas. If you work for an organisation that is looking to help a hospital or an individual with an upcoming birthday, anniversary, or special occasion and have no need for gifts but wish to help others like we help please get in touch via our website."
As well as hosting the community packing day at Castle Hill RSL SuperTee also received a $10,000 donation from CHRG. The group has supported the charity with donations for over 2 years now.
Alive 90.5FM conducted a live radio broadcast from the Club during the packing event, interviewing guests and raising awareness about the SuperTee Project.
For more info on the Supertee Project go to https://www.supertee.org.au/[/vc_column_text][/vc_column][/vc_row][vc_row][vc_column][us_image image="70287″][/vc_column][/vc_row]