Motherhood and friendship take centre stage in bestselling author Sophie Green's new book Weekends With The Sunshine Gardening Society, a touching novel about four women at vastly different stages of life coming together over an unexpected love of gardening in late-80s Noosa Heads.
Following newly-divorced Cynthia, busybody Lorraine, recently-widowed Elizabeth and heartbroken Kathy, the novel sees their lives interweave as they become members of volunteer group The Sunshine Gardening Society. The group is a welcome reprieve for each woman from the worries of their life, as well as an avenue to discover more about one another and themselves.
When writing about these women, Sophie says that her characters largely told her who they are and what happens to them. "I decide what it's about, what the device is – gardening, in this case – where it's set. And then I kind of say 'Alright, who's out there, who wants their story told, and at that particular time and place?' It wasn't actually intentional that they were all mothers, it just came through that way."
The genuine depth of Cynthia, Elizabeth, Lorraine and Kathy is part of what makes WWTSGS such an enjoyable read. Each character feels human and likeable, making each of their individual stories and struggles genuinely compelling. Sophie's writing is always dialled into the tone of a scene – often fun, but always knowing when to let the emotion of a scene play out in a natural way.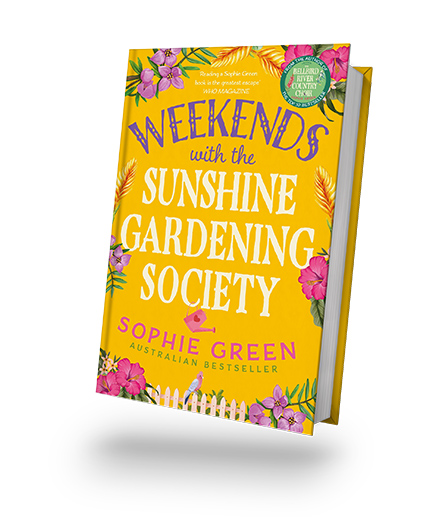 It's a terrific tool in the arsenal of WWTSGS that allows Sophie to tell a narrative that is equal parts entertaining and thoughtful. In her willingness to approach the story with empathy and humour in spades, Sophie writes a deeply human story about what it means to find purpose in the little things, even when in the midst of personal crises.
"I find that's one of the most moving parts of being human," Sophie comments on the novel's themes. "We can handle these things and keep functioning to show up for our loved ones, our jobs, our community groups. In the stories I write, I try to reflect that a lot of people are dealing with very tough things, but they're still showing up. They're getting out of bed every morning, doing their best every single day. And I think that's true of humans generally."
Sophie is looking forward to the author event happening at the Pioneer Theatre on September 20th: "It's always great to meet readers and see them live in person, especially because it's going to be a Q&A. I really enjoy that format, because I think it's a good rhythm for the audience. And I'm always just amazed when anyone wants to come out and see me talk about my books. I look forward to meeting those people!"
Weekends With The Sunshine Gardening Society is available for RRP$32.99 through Hachette AU.