Hornsby Shire Council marked Social Inclusion Week recently with a free event celebrating the success of its isolationbusting Hello Hornsby initiative, which has connected with over 1,500 people at 16 events across the Shire and is set to continue in 2023.
Launched in March, Hello Hornsby promoted social inclusion for seniors. The program of free events and activities made a significant impact across the Shire with highlights including boat trips on the Hawkesbury, a comedy show, art therapy, talks and a grandparents' day out.
The initiative is run thanks to a NSW Government 'Reducing Social Isolation for Seniors' grant. Following its success in 2022, Council has successfully secured a further $30,000 to present it in 2023.
"We are delighted with the response to Hello Hornsby and are proud that it has touched the lives of so many people, bringing joy and camaraderie," said Hornsby Shire Mayor Philip Ruddock.
"With an ageing population, it's important for us to ensure that all our residents are catered for. Social isolation can become a real problem as we get older, and the pandemic really compounded this. Taking that first step to get out socially can be daunting, and Hello Hornsby provided people with the opportunity to do so in a safe and friendly environment with like-minded people.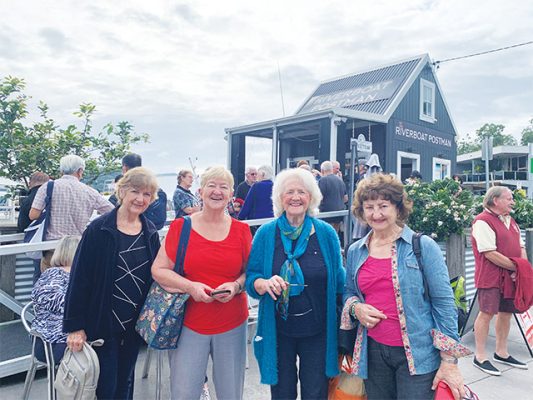 "Some of our attendees told us they have not been anywhere in two years, aside for medical appointments. We are pleased to have provided a raft of activities, catering for a range of different needs and circumstances, connecting even with some of our most hard to reach residents.
"We are delighted to be one of only 10 organisations in NSW to be awarded funds in the 2023 round of the 'Reducing Social Isolation for Seniors' grant and thank the NSW Government for its support in helping us deliver this vital project."
Feedback from attendees has been overwhelmingly positive. People cited the opportunity to connect, network, relax, talk and try new things as some of the things they enjoyed most.
For some, the events were a real pick-me-up, with one comedy show attendee saying, "I'd been feeling very low, so had to drag myself there. I met a couple I know and after the comedy…felt so much better". Helen from Galston thanked Council and spoke of her enriching experience. "Thanks very much – to you, Hornsby Council and the grant provider for providing such a lovely day on the Hawkesbury.
The event was truly appreciated by all and presented to all a wonderful opportunity to not only feel part of a beautiful environment but, where possible, have a chat or touch others, physically and emotionally."
Rounding up the year, the action-packed 'Friends, Food and Fun' on 21st November featured comedy, music, dancing, and lunch. Like many other Hello Hornsby events, it quickly sold out, demonstrating the popularity of the initiative.
For more information about Hello Hornsby visit https://www.hornsby.nsw.gov.au/hellohornsby