[vc_row][vc_column width="1/6″ offset="vc_col-lg-1/5 vc_col-md-1/5 vc_col-xs-1/5″][us_image image="67486″ size="thumbnail" align="left" style="circle" has_ratio="1″][/vc_column][vc_column width="1/12″ offset="vc_col-lg-4/5 vc_col-md-4/5 vc_col-xs-4/5″][vc_column_text]By
Lawrence Machado
[/vc_column_text][us_post_date][/vc_column][/vc_row][vc_row][vc_column][vc_column_text]
Australia's four-time hammer throw champion Alex Hulley will be using her experience at the recent World Athletics Championships to nail a second Commonwealth Games medal in Birmingham next week.  
The reigning Commonwealth Games silver medallist exclusively told the Hills to Hawkesbury Community News from Birmingham that her confidence has improved a lot after her World Championships debut in Oregon, USA.
The Rouse Hill local admitted she has struggled over the past two years in confidence, had some injury setbacks but is now getting back to her best.
It's showtime for Hulley, 25, in Birmingham, having had a best heave of 68.83m in Oregon after a nervous first attempt at 64m. She was incidentally, the first Australian hammer thrower in 18 years to compete at a senior world event. Her world ranking jumped from 34 to 18 after her impressive world championship performance.
"These distances are pretty similar to what I've been throwing throughout the season so I was happy to finish such a major competition with a good result," said Hulley. "The best advice I got from my coaches was that I belong there, I earned my place and I can definitely mix it with the very best in the world."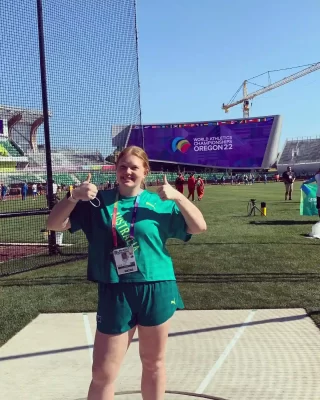 Since she won her first junior national title and then a silver at the 2014 Youth Olympics, Hulley has been an unstoppable force in Australian hammer throwing, even nailing an incredible 70.55m at the Sydney Track Classic in 2019/20 season, to outshine four-time US champion Gwen Berry.
Asked if she can win a second Commonwealth Games medal, the sunnynatured Hulley said: "Anything can happen on the day. That's definitely the goal, to come home with a medal!
"I definitely feel confident now that I know I can throw far again. We have kept things mainly the same, working on getting stronger, more powerful, and faster in the circle.
My coaches (Breanne Clement and Karyne D Marco) and I have made some really great technical improvements over the last year and we are definitely seeing those pay off now.
Hulley is enjoying her hectic schedule, having left Australia for the US on July 7, and has been in England for the past week in preparation for her competition which starts with a qualifying round on Thursday, August 4.
She will be cheered on by her proud parents, Matthew and Louise Hulley, and an aunt, though younger sister Georgia, a promising athlete herself, has stayed back to complete her university studies.
"After these competitions, I am staying in London to continue training and competing in Finland and hopefully Hungary," Hulley said. "I will also have a little holiday with dad in Italy after all the competitions are done before heading home."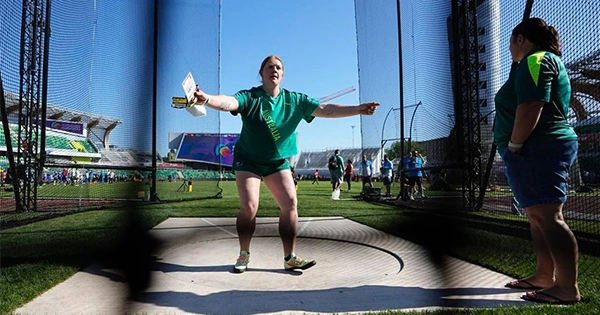 [/vc_column_text][/vc_column][/vc_row]