Ashton Kersten was 14 when he first joined RuffTRACK, a charity dedicated to turning around the lives of kids who are disengaged from the schooling system and often either perpetrators or victims of crimes.
"It all went really bad downhill in school, I was going maybe an hour and a half then going back home, and I had a real problem with drugs at the time," he says.
Now 19, Ashton has gone through RuffTRACK's program and earned a Cert III in Rural Operations and become a full-time employee of the charity to give back to the community. He says: "I know exactly what those kids are going through; I was them not even five years ago."
The success story of Ashton is one of many out of RuffTRACK, which uses bonding with dogs as a launching point to teach disadvantaged kids skills that can completely turn their lives around. Located on the edge of both the Hills and Hawkesbury areas, the charity was founded in 2019 by Dave Graham (known more popularly as Farmer Dave) and Hawkesbury Senior Constable Belinda Flynn with three goals in mind: keep kids alive, out of prison, and with a future ahead of them.
From there, RuffTRACK has grown steadily while substantially helping those going through the program. Operations Manager Tara Palffy joined the team two and a half years ago after being exposed to young people in strife when she was studying to become a paramedic. She says: "A lot of our clients and patients were young people, and many of them would have some sort of addiction. And that really hurt me to see, that at such a young age that was happening.
"When the job at RuffTRACK came up, I thought why not? Let's go and see what it's about. On my first day, I met a crew of 10 young people who all had the utmost respect. There's a cliche out there that people think, that this kid's stolen a car, had a fight with this person, never goes to school. They're always pointing out the problems, but RuffTRUCK has the solution to actually change the ways that young people think about themselves."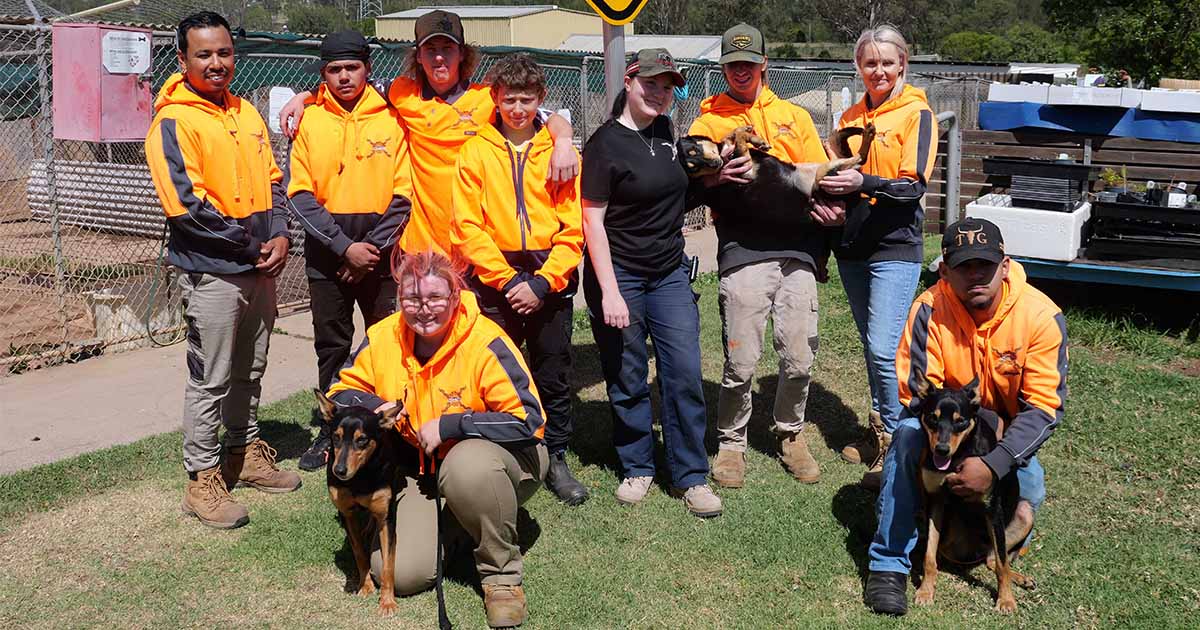 When a young person joins the RuffTRACK program, the first step for them is to pick a dog that they'll build a connection with over 10 weeks. "We do dog training, we do walks in the morning, and we go to our bush classroom which is all about getting that connection with them," Tara explains.
"We do a lot of agricultural shows too, and we usually have a team of 8-10 young people that participate, and they get to take their dogs and perform in front of hundreds, sometimes thousands of people. The Sydney Royal Easter Show is our biggest – 14 days straight, eight shows a day, which is pretty phenomenal."
In addition to relationship-building with one of the now-25 dogs onsite at the farm, RuffTRACK also helps its participants develop a variety of physical and emotional skills with programs running every day of the week.
The Round Yard Programme builds the necessary foundations by developing the relationship between the dogs and kids across 10 weeks as they undertake a number activities with their canine companions. During the program, daily conversations in the main area are held to allow participants to express how they're feeling and give them the necessary space to navigate their emotions.
RuffTRACK has been proven to work, with participants in the program shown to have been less likely to reoffend. Similarly, over 90% of participants from 2021-22 gained White Card qualifications by the end of the program.
Tara finds the work RuffTRACK does deeply gratifying: "My ultimate goal is to try and help as many young people as possible, and to build the staff up a bit. I stayed full time and pushed aside my Paramedicine because I just thought that this is so much more rewarding – getting our name out there, and showing the public what these kids can do, building confidence and compassion and all of that."
RuffTRACK's current location is a rental property, and the team are looking to relocate to their 'Forever Farm', away from the hustle and bustle of suburban life and development to create a more serene space for the kids going through the program. Tara says: "We're on a main road, which is good, but it's a bit of an issue now having a shopping centre across the road. We want somewhere that's a safe place for young people."
If you'd like to help RuffTrack attain their Forever Farm, you can help by participating in their Krispy Kreme Doughnut Drive (details below). Furthermore, they're always accepting donations, sponsorships for the young people in the program and volunteers to help out. Head to https://www.rufftrack.com to find out more about what you can do to help support this terrific local charity.