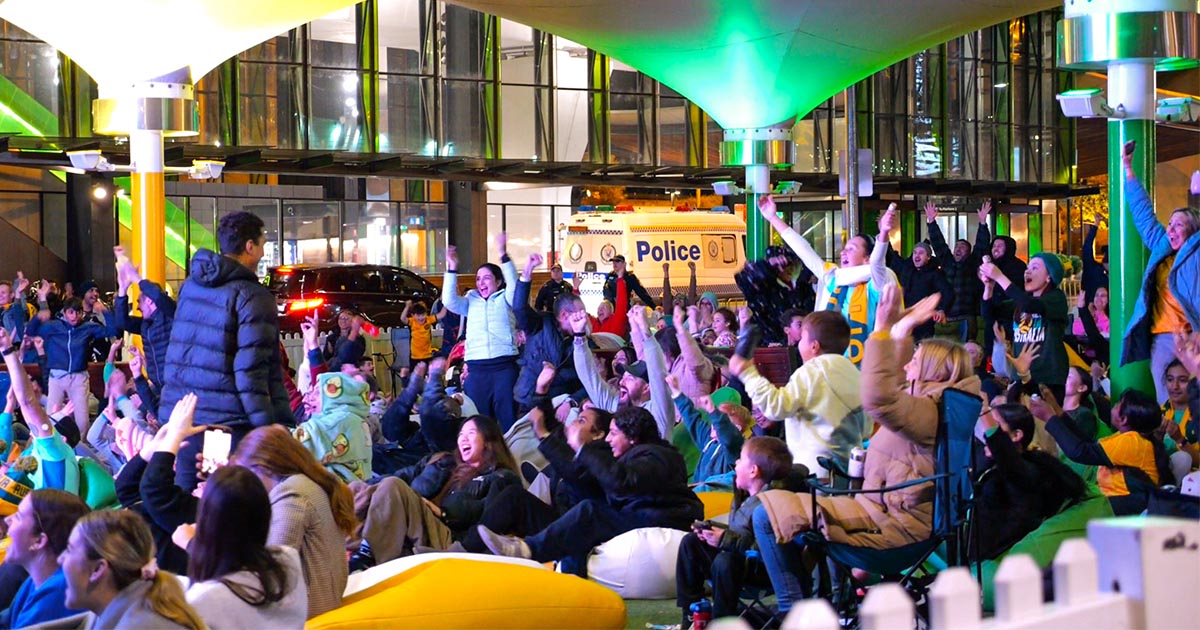 Market Square at Rouse Hill Town Centre was an ocean of green and gold on Monday night as Australia took on Denmark in the FIFA Women's World Cup, hundreds of people in attendance for The Hills Shire Council's pop-up series for Australia's games in the series.
Hundreds of people showed up for an 8:30 pm kickoff time and showed great local and national pride for the Matildas' decisive victory 2-0 over Denmark.
The crowd in Rouse Hill was filled with tension throughout the first half an hour as Denmark started off on the offensive, making three serious attempts on goal from the halfway line in just the first twenty minutes. At the 28-minute mark, the ball began to escape the Australian half, making its way to Mary Fowler.
A magnificent pass deep into Danish defence saw the ball fall under the control of Caitlin Foord, who made a shot on goal with what felt like the cheers of the entire nation behind her. The crowd in Market Square erupted with excitement as Foord finessed the ball through goalkeeper Lene Christensen's legs to score the Matildas' first goal of the evening. As Australia entered half-time with a 1-0 lead, the crowd gathered at the Town Centre was buzzing and filled with hope that Australia could take the game.
The second half saw the Matildas solidify their lead, their second goal on the brink of the 70th minute an impressive feat of ball control. Dancing from Kyra Cooney-Cross to Mary Fowler to Emily von Egmond, it arrived at the boots of Hayley Raso who convincingly put the ball away into the corner of the Danish goal. Once again Rouse Hill came alive, perhaps with even more excitement than before, as the Matildas came closer to progressing through to the quarter-finals.
In the 79th minute, everyone in attendance at both Market Square and Stadium Australia roared with excitement as Matildas captain Sam Kerr made her first appearance of the tournament, making an unsuccessful (but close) attempt on goal that nonetheless had the nation enraptured.
The night's final serving of cheers came as the final whistle blew, excitement felt potently throughout Market Square. Applause, cheers and even the sound of drums continued well after the game ended, many in attendance already planning to be back on Saturday 12th August to watch the Matildas take on France in the World Cup Quarter-Finals.