From collecting hundreds of items for Share the Dignity to giving blood and so many campaigns in between it is no surprise that Madeleine Govender has been named Australia's Rotaractor of the Year.
A member of the Hills Rotaract Club since 2019 Madeleine was presented with the award at the recent joint Rotary and Rotaract Zone 8 conference in Canberra (Zone 8 covers Australia, New Zealand and the Pacific Islands).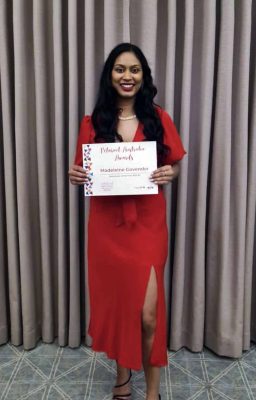 Madeleine was awarded the title alongside Jack Wilson from Hastings Rotaract Club in the Tweed Shire. She thanked the anonymous person who nominated her saying she was touched that they saw her as "deserving".
"Thank you to my fellow Rotaractors and Rotarians, friends and family who have been so supportive and to Rotaract Australia and Rotary International for endless opportunities to inspire, serve and learn. "
The 26-year-old said: "I am proud to be a Rotaractor among thousands in the world who make an impact "
She told the Hills to Hawkesbury Community News: "Volunteering has always been an important part of my life.
"WhiIe completing my Bachelor degree a few years ago, I was a member of various volunteering and social clubs. When I graduated I could no longer participate in these, and wanted to find another group where I could continue contributing to my community and make friends.
"A friend of mine clicked interested on a Facebook event for a Hills Rotaract Club meeting so I messaged her and asked what it was about, and she invited me to come along. I've been a Rotaractor ever since and it's given me what I was looking for and much more – meaningful volunteering, socials, and opportunities for personal and professional growth."
The Hills Rotaract Club is open to young adults aged over 18 and is a global organisation that empowers students and young professionals to create a positive change in their local communities and around the world.
The main focus of the group is homelessness and domestic violence, mental health, sustainability and the environment and education. Personal development is a key part of the club.
The club has just voted to extend the membership age to 40 years old. The club meets on second and fourth Tuesday of every month in person in Baulkham Hills or online at Zoom.
Full details on the Hills Rotaract facebook page website hillsrotaractclubsuare. site. Instagram hills rotaract club or email [email protected]
Rotary and Rotaract work side by side to take action through service (Rotaract stands for Rotary in Action).