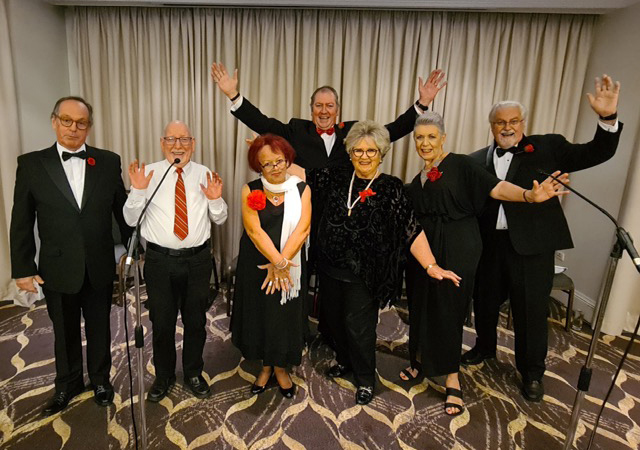 It could have been the start of one of their plays but four hours before Radio Active Live was about to hold its first production of the year at The Hills Lodge at Castle Hill one their founding cast members phoned in to say they were sick and had been rushed to hospital.
Robyn Dalton is now recovering from an infection but the team that produces and performs Radio Active Live kicked into gear to ensure that the show featuring several short radio plays opened on Sunday 16th April and was a great success.
Co-director Diane Abbott said: "It's every director's nightmare, that last minute call saying an actor can't make it. Robyn has never missed a production in 11 years."
Radio Active Live has already notched up 10 years of performances which they say is amazing for something that started as a bit of an experiment to see what kind of reception there was in the community for radio plays.
It started with one performance and grown to several each year following the resoundingly good reception to its first production. Since then more than 170 plays have been delivered by the enthusiastic RAL group who are great friends.
Performers Marc Kay and Diane Abbott took on the Role as directors for last weekend's performance and will be doing the same this Sunday, April 23rd, with Marc directing the first half and Diane the second.
The program includes some great vintage Peter Cooke and Dudley Moore sketches such as the "Frog and Peach", a unique restaurant situated in a bog in the heart of the Yorkshire moor and a BBC gem called "Clare in the Community', the saga of an empathy challenged Social Worker in Britain.
The cast is made up of drama enthusiasts who have been involved with Castle Hill Players and other theatrical groups for many years. Stephen Comey, Phil Lye, Annette van Roden and Annette Dix are in the current production.
Radio Active Live productions take place at The Hills Lodge, 1 Salisbury Rd, Castle Hill. Sunday April 23rd, 3pm to 5pm.
Tickets for Sunday's performance are $30 and include afternoon tea. Bookings are essential, ring Janelle on 0481 741 440.
For more information visit the RAL website at https://radioactive-live.com/ and follow the facebook page at 'Radioactivelive Australia'.