[vc_row][vc_column width="1/6″ offset="vc_col-lg-1/5 vc_col-md-1/5 vc_col-xs-1/5″][us_image image="67486″ size="thumbnail" align="left" style="circle" has_ratio="1″][/vc_column][vc_column width="1/12″ offset="vc_col-lg-4/5 vc_col-md-4/5 vc_col-xs-4/5″][vc_column_text]By
Lawrence Machado
[/vc_column_text][us_post_date][/vc_column][/vc_row][vc_row][vc_column][vc_column_text]
Jeremiah-Xyndel Tatapu braved a fractured hand to help Quakers Hill Little Athletics Centre lift the boys under-11 throws gold at the 2022 Little Athletics NSW State Relay Championships.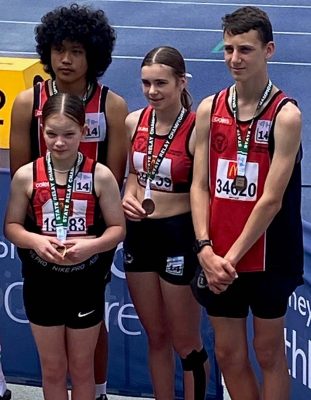 The well-established Quakers Hills club also brought home two bronze medals in the under-15 boys and under-14 mixed events.
Along with Fraser Reynolds-Nutt and Nate Nand, Jeremiah-Xyndel gave Quakers Hill LAC their sole gold medal at the championship held at Sydney Olympic Park on November 12 and 13. This achievement is extra special as the Quakers Hill LAC is celebrating their 30th anniversary this year. Jeremiah-Xyndel fractured his arm just a week before the championships but still turned up on the day to throw the discus in their event. Fortunately, it was his nonthrowing arm that was in the cast. Fraser threw the javelin, while Nate heaved the shot put as their team clinched the gold.
The Quakers Hill boys comprising twins Julio-Xavier and Dominic-Xander Tatupu, along with Rhyu Torrisheba, won the under-15 bronze in the throws event.
In the under-14 4×100 mixed team relay, Ethan Aguasa, Charlotte Blyth, Brayden Doran, and Sarah Cummins captured the bronze.
"Quakers Hill Little Athletics Centre is celebrating its 30th season this year," club president Chris Olson said. "This season, we have 390 registered athletes who compete on Friday nights at Wright Reserve, Quakers Hill from September to March.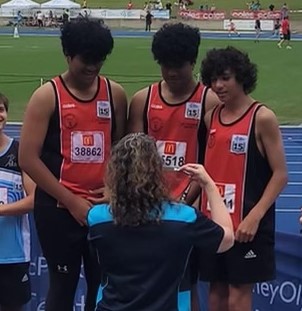 "In addition to the Relay Championships, our athletes are preparing to attend Zone Championships in December, then regional and state championships in February and March."
The Little Athletics NSW State Relay Championships were not held for the last two years due to Covid and the hundreds of children who took part had a lot of fun.
Tiana Death, who used to dominate junior hurdles in NSW and Australia, is one of the biggest stars who started at Quakers Hill LAC. Tiana, a former Rouse Hill Times Junior Sports Star, made the Australian team for the 2017 Commonwealth Youth Games. The Kellyville 100m hurdler was top-ranked in Australia in the under-17 age group in 2016.
For information on how to register, visit: https://qhlac.org/[/vc_column_text][/vc_column][/vc_row]