Philip Gielis found out he had prostate cancer after his annual PSA blood test showed a high amount of prostatespecific antigen (PSA) in his blood.
His GP was not happy with the PSA level and sent the Baulkham Hills resident to a specialist for more tests, leading to a biopsy which revealed he had a Stage 2 cancer.
"They caught it early and told me I had two choices," he said. "Surgery or radiation and I needed to go and do the research and decide."
Philip, 67, said he was "overcome" by the wealth of information on the internet but found the Cancer Council website very useful.
"It had some very good information on both procedures." Having made the decision to have radiation treatment he said he thought he may have to travel a long distance which could prove challenging as he still works full time. He called Norwest Private Hospital where he had his biopsy and was delighted to find that Icon Cancer Centre had just opened at Norwest.
He met Dr Johnson Lam and started his 20 rounds of radiation just before Christmas and finished it last week.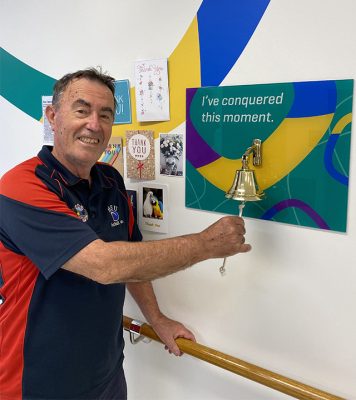 "I work from 7am to 3pm so I would go in after work and then go home. It was amazing having treatment just 10 minutes from my home. Having somewhere local was so convenient."
On the last day of treatment he got to ring the bell (pictured) "I was very happy ringing the bell," he said.
His advice to men is to keep an eye on their PSA by having the free annual blood test.
He says his cancer was caught early because of the test. Icon Group CEO, Mark Middleton said."Every cancer patient has a unique perspective and story to tell, By bringing together advice, learning and hope from across our network of integrated care services, we're taking another step forward in closing the care gap."