[vc_row][vc_column width="1/6″ offset="vc_col-lg-1/5 vc_col-md-1/5 vc_col-xs-1/5″][us_image image="67486″ size="thumbnail" align="left" style="circle" has_ratio="1″][/vc_column][vc_column width="1/12″ offset="vc_col-lg-4/5 vc_col-md-4/5 vc_col-xs-4/5″][vc_column_text]By
Lawrence Machado
[/vc_column_text][us_post_date][/vc_column][/vc_row][vc_row][vc_column][vc_column_text]
Pele Strode was more than just a once-in-a-century football genius. This goal-scoring Brazilian magician became a living legend not only in football but across all sports after bursting into the international arena as a 17-year-old in the 1958 World Cup.
He scored two goals in that final where Brazil vanquished Sweden 5-2, with his first goal, later selected as one of the finest in World Cup history.
I interviewed Pelé, then a roving ambassador for football, while working for the Khaleej Times in Dubai, in the nineties. This is easily one of my best, and most memorable interviews, because we grew up in a world where Pelé ranked among the most recognised faces, long before social media made stars of ordinary people. Pele strode the world like a Colossus but never lost his common touch.
Pelé's greatness was his ability to be humble and approachable, and also easily marketable not only for his beloved Brazil and club Santos, but also for the world game and his many sponsors. When Pelé sat down for his interview with Khaleej Times, it was a fulfilment of a dream for me and also a rare opportunity to get down and personal with the legend.
Alongside another sporting legend, Muhammad Ali, who I was also blessed to interview in the United Arab Emirates for another daily, the Gulf News, Pelé transcended sports and also waded bravely into politics, becoming the Sports Minister in Brazil. But whereas Ali loved being brash, bold, and provocative, Pelé was the down-to-earth superstar who inspired millions to take to football, which he turned into 'The Beautiful Game'.
During our lively interview, Pelé answered all questions without dodging any like did with so many defenders during his prime, and flashed his million-dollar smile whenever he felt something was something outrageous or funny.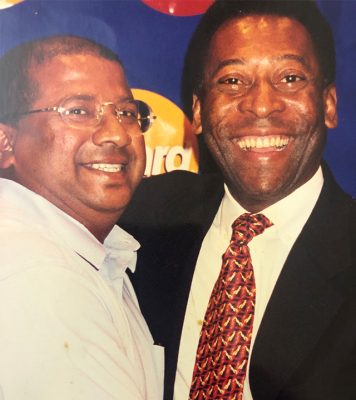 Despite a massive media and fan crush outside, Pele spoke like he had all the time in the world. We spoke about his career, his highs and lows, his family, the controversy at that time with his government, and the development of football in the Gulf Arab countries among other things. His jovial face and joyful laugh when I asked him if I could take a picture with him, capped the unforgettable interview.
While there will always be comparisons with modern day football greats like Diego Maradona and Lionel Messi, Pelé is unrivalled because of his three World Cups wins (1958, 1962, and 1970), Athlete of the Century in 1999 by the International Olympic Council, World Player of the Century in 2000 and joint winner of the FIFA Player of the Century (with Maradona).
Playing professional football at just 15, the 1.73cm star scored a record 1279 goals in 1363 matches, and is the highest scorer, according to the Guinness Book of World Records. This includes a record 77 goals for Brazil.
There will always be a new football superstar but there will never be another Pelé. May the turf lie gently on him.
Edson Arantes do Nascimento – October 23, 1940 – December 29, 2022.[/vc_column_text][/vc_column][/vc_row]