[vc_row][vc_column width="1/12″ offset="vc_col-lg-1/5 vc_col-md-1/5 vc_col-xs-1/5″][us_image image="67172″ size="full" align="left" style="circle" has_ratio="1″][/vc_column][vc_column width="1/6″ offset="vc_col-lg-4/5 vc_col-md-4/5 vc_col-xs-4/5″][vc_column_text]By
Annette Madjarian
[/vc_column_text][us_post_date][/vc_column][/vc_row][vc_row][vc_column][vc_column_text]Dural Country Club is set to be taken over by Parramatta Leagues Club in a multi-million-dollar deal which will effectively save the club from going under.
Parramatta Leagues Club will inject $5 million into reviving Dural Country Club, as well as pay off its debts, which are believed to be some $3 million. In a detailed Memorandum of Understanding (MOU), Parramatta Leagues Club has guaranteed spending at least $5 million within the first three years of the amalgamation, which will go towards upgrading, refurbishing and renovating Dural Country Club's premises and facilities. This includes upgrading the clubhouse itself, the bowling greens and also the bocce courts.
Within the first 12 months, Parramatta's plan includes renovating the main bar; installing new gaming machines; putting in facial recognition technology; and fixing parts of the building (and roof). Based on member feedback, it also has visions to build a new alfresco area and kids play area; upgrade the existing function rooms; upgrade food and beverage facilities (kitchen); install outdoor lighting for bowls; upgrade the facilities for bocce (storage and lockers); install an EV car charger and solar panels; and upgrade the audio/visual technology throughout the premises. As part of the Amalgamation, Dural Country Club would be wound up/liquidated. The MOU states the core property would not be "disposed of" for 10 years.
However, after 10 years "the disposal of core property will be considered only after all other ways of addressing those risks have been exhausted and provided the disposal is in accordance with the RCA". According to the MOU, Parramatta intends to conduct a strategic analysis of the club's 58 existing gaming machines and depending on the outcome, would "either increase or decrease the number of gaming machines at the Dural Premises".
It's believed Dural Country Club has been struggling financially for some time, with Covid placing irreparable pressure on its existence. Member numbers had been dwindling and the club's operating hours had also been cut.
Dural Country Club President John Puleo said the amalgamation would give the Board, members, and the club security and a future.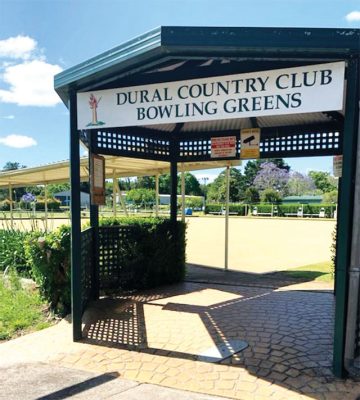 "We had difficulty with Covid lockdowns and we were not able to recover from that unfortunately. Also, we've had competition with newer hotels that have opened up around us, so that's not been easy either," Mr Puleo said.
"We see this as an ideal fit. Parramatta Leagues is very comparable to us, very sports orientated. They will continue to support the sub-clubs like the bocce, which is really important. Members have security of tenure," Mr Puleo said. As part of the MOU, Parramatta Leagues plans to spend $150,000 annually towards marketing and activities to increase brand awareness, and to grow membership. The two bowling greens and bocce courts would remain for at least the first 10 years after amalgamation. As part of the winding up/liquidation of Dural, the employment of all Dural's employees would also end. Parramatta Leagues said that prior to completing the amalgamation, it would make offers of employment to all of Dural's employees.
Parramatta Leagues Club CEO Chris Dimou said he saw the amalgamation "as a great outcome for members of both organisations".
"The PLC Group has a strong connection to the Hills District, including the thousands of PLC and Eels Members who live in the area. It is home to our future $60 million Centre of Excellence & Community Centre at Kellyville and we currently provide significant grants to local sporting and community clubs within the area," he told the Dooral Roundup.
"Being a recognised leader in the local community and having proven commercial success, we are excited to begin the journey with the Dural Country Club and ensure it continues as a key contributor within the Hills community," Mr Dimou said.
Dural Country Club members were expected to vote on the amalgamation on the 29th of November. Parramatta members are expected to vote by the end of the year.[/vc_column_text][/vc_column][/vc_row]