All
School News
Normanhurst Boys High School Student Wins Youth of the Year Club Judging
Normanhurst Boys High School Year 12 Student, Adam Fowler, was successful in winning this year's Youth of The Year Quest Club award sponsored by The Lions Club of West Pennant Hills Cherrybrook. The West Pennant Hills Club has been supporting this National Quest for the past 59 years as part of its work to encourage and develop local youth.
Adam brings great credit to his school and is a most worthy winner. He is an accomplished student at Normanhurst Boys who has achieved high academic standards. He is well involved within the school community and is respected by his teachers and peers alike. By coincidence, Adam is a junior member of Lions International through the Normanhurst Alpha Leos Club and holds the position as Club Board Member. Adam is a writer of fictional stories and essays. Recently his philosophical essay was published in the Australian Mensa Journal and will be shortly published on Mensa's Australian website.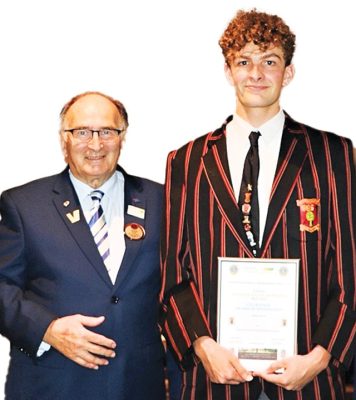 Adam's interests include Scouting, citizenship and community involvement, sporting teams, 1st Grade Water Polo and swimming, the school debating team and is Captain of the school media and marketing team in his Robotics Club.
Adam's ambition is to undertake an astrophysics-related degree at an Australian University, potentially minoring in Psychology. He also aspires to completing a Phd in astrophysics and nuclear physics.
Club President, Philip Watson, thanked and acknowledged the excellent work done by the Club's Youth Chairman, Gavin Ridley, (pictured). Gavin is a senior retired Mathematics teacher formerly of Normanhurst Boy High. Gavin's dedication and organisation skills ensured that the Youth of The Year dinner was again entertaining and of a high standard.
The Lions International prestigious youth of The Year Quest, has a proud history in encouraging and fostering leadership skills in Australian students approaching the end of their high school years. By emphasising qualities like contributing to the community and schools, public speaking, academic skills, sporting and cultural involvement the Quest aims to bring forth the next generation of outstanding young Australians.
The National winner will enjoy a unique and memorable twelve-month experience at being a Lions International Youth ambassador both within Australia and overseas. – BY LION GEOFF IRVINE