Family, friends, dignitaries and police officers gathered at Windsor Police Station last week to honour the 10-year anniversary of Detective Inspector Bryson Anderson's death, and to unveil the Bryson Anderson Police Memorial.
The respected senior police officer was fatally wounded while responding to a neighbourhood dispute at Oakville on Thursday 6th December 2012 at a property on Scheyville Road.
During the course of the police operation he suffered serious stab wounds and, despite efforts of his colleagues and emergency services, he later died at Hawkesbury District Hospital.
His wife, Donna, and three children, Cain (now a probationary constable) Darcy and Olivia, attended the dedication of the memorial with Bryson's mother Shirely and his brothers.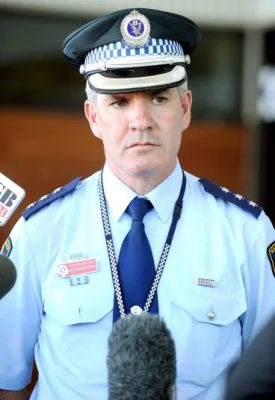 The memorial includes three sandstone pillars, each with the words inscribed 'Courage', 'Pride' and 'Integrity'. Names of officers who were members of the NSW Colonial Police Force (pre-1862) and those members of the NSW Police Force (1862 and onwards) who passed away while serving the Hawkesbury community will also be inscribed on the pillars.
Donna Anderson, Detective Inspector Bryson's Anderson's wife, said she was moved by the immense community support and that of his colleagues.
"To stand here 10 years on and to see the memory of Bryson honoured in such huge numbers is truly overwhelming and indicates just how truly respected Bryson was," she said.
"Bryson's murder has received significant attention on a level that was hugely overwhelming to my family and me; however, it was extremely comforting to know that we had the support and love of our family, friends, the community and the NSW Police Force.
"Our blue (police) family are ordinary people doing an extraordinary job in order to make our community a better and safer place."
Hawkesbury Police Area Command Superintendent Andrew Garner said the loss of Bryson was immeasurable. He said officers there at the time said: "There was an immense sense of loss, confusion, disbelief and devastation."
NSW Police Commissioner, Karen Webb gave an emotional address saying that the Bryson Anderson Police Memorial would ensure the legacy of distinguished fallen officers would carry through for generations to come and never be forgotten.
She said Bryson was a brilliant police officer who was also a retained firefighter and junior soccer coach, "a true hero".
"One of the toughest challenges for police is starting work each day not knowing what will happen yet understanding they may have to risk their own life to save another," she said.
"It is with great pride I dedicate this memorial and honour Detective Inspector Bryson Anderson, and those officers who have lost their lives in the line of duty, whose names are inscribed, remembering their selfless sacrifice and courage. They will not be forgotten."
The unveiling came just days before the shooting of Queensland Constables Rachel McCrow and Matthew Arnold in the course of a routine inquiry.