The Hills Shire Council is pleased to announce the design of a new park at Mason Road Reserve, located at 22Z Mason Road, Box Hill.
The park will provide a range of informal recreational opportunities for the local community and will feature a range of facilities consistent with a local-urban level park as outlined in Council's Recreation Strategy including:
A playground with a range of play equipment catering for various age groups and abilities
Shade sails to the main playground area.
Selected areas of rubber soft fall.
Gathering and picnic areas.
Turf kick-about space.
Concrete pathways including cycleways with future connections beyond the site, and pedestrian pathways.
Extensive tree planting works.
Soft landscaping including a vegetated swale along the eastern park extent.
If sufficient funds become available during the course of the project, Council will also consider:
A learn to ride bike/scooter circuit including a scooter skills track.
Table tennis facilities.
Solar lighting to the main playspace.
As part of the community consultation process, Council is inviting the local community to provide feedback on the park design. To make a written submission please complete the online submissions form by 4:00pm, Monday 6th March 2023.
The construction of the reserve is included in Council's Draft Four Year Works Program with the timing of works subject to funding availability and the completion of road construction and upgrade works immediately surrounding the site.
Enquiries: Melanie Medrano – Recreational Project Planner | 9843 0433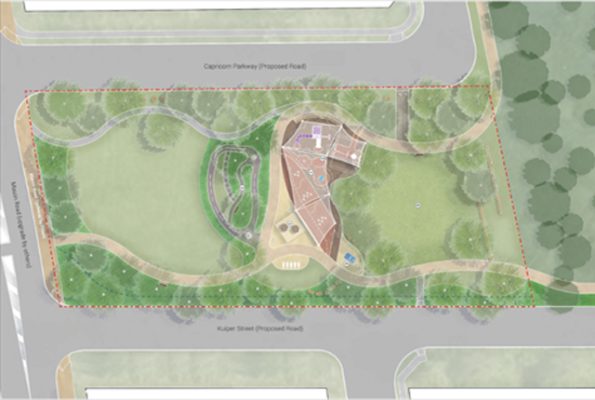 Source: https://www.thehills.nsw.gov.au/