The members of the Hills Shire Symphony Orchestra are eagerly looking forward to presenting the first concert of the orchestra's 2023 season on Saturday 11th March, at 7.30pm at the Hills Grammar School, Kenthurst.
The concert will open with Mozart's Overture to one of his most beloved operas, The Magic Flute. Written in 1791 and completed just a few days before the opera's premiere, the overture is a succinct and energetic work contrasting the lyric and earthy, with high- minded seriousness. The work is considered to be an allegory for Mozart's Masonic beliefs and rites in which the number three, among other things, is said to hold mystical significance.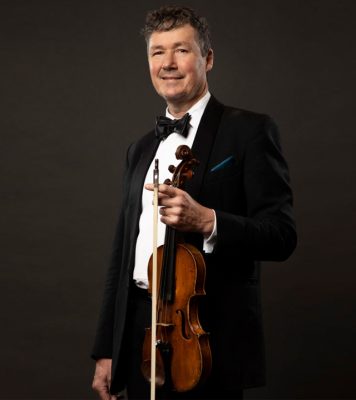 The featured work on the program is one of the most popular of all violin concertos, Mendelssohn's Concerto for Violin and Orchestra in E minor Op 64. The orchestra is honoured to be joined by soloist Warwick Adeney, who, after 22 years as Queensland Symphony Orchestra's (QSO) Concertmaster, is stepping down from this important role to pursue teaching and music-making more broadly across the community. Warwick has been highly praised by QSO's Chief Executive for his integrity, musicianship, passion for playing, musical leadership and authenticity. Hills Shire Symphony Orchestra Chief Conductor and Artistic Director, Chris Upton said, "The orchestra and I are thrilled to have this opportunity to work with Warwick and to share his wealth of musical knowledge and experience with an audience in The Hills."
The major work of the concert is Brahms' Symphony No 2 in D Major composed in 1877. Awed by the symphonic masterpieces of his predecessor Beethoven, Brahms was uncertain about composing symphonies of his own. Brahms is reputed to have once said (referring to Beethoven), "you don't know what it means to the likes of us when we hear his footsteps behind us".
Brahms began work on a symphony as early as 1854, not completing his first symphony until 1876 and then his second in quick succession. His writing is notable for its rich textures resulting from a dense fabric of interwoven melodies.
The Hills Shire Symphony Orchestra was founded by Chris Upton in 2018 to contribute to the culture of the area by providing engaging and exhilarating performances of classical music at a reasonable cost. Chris' vision is that the orchestra will provide opportunities for local performers and audiences, as well as for aspiring conductors and composers.
Members of the HSSO perform at Bella Vista Farm's Open Day, the first Sunday of every month (excluding January). Come and enjoy their beautiful music in the scenic grounds of the Farm. Performances commence at 10am – 2pm, corner Norwest Boulevard and Elizabeth Macarthur Drive.
Bella Vista. Next Open Day: Sunday, 5th March 9am – 2pm.
In order to faithfully present these major works, the orchestra desperately needs more string players, especially cellos and double basses. Rehearsals are held on Wednesday evenings in Castle Hill. If you or anyone you know plays a string instrument, please don't hesitate to get in touch for a very warm welcome at [email protected] Tickets for the upcoming concert are available now at www.hillsshiresymphonyorchestra.org.au Adults $30, Concession $15, Children under 12, $10. This will be a sell-out concert and seating is limited, so don't delay!