[vc_row][vc_column width="1/12″ offset="vc_col-lg-1/5 vc_col-md-1/5 vc_col-xs-1/5″][us_image image="67172″ size="full" align="left" style="circle" has_ratio="1″][/vc_column][vc_column width="1/6″ offset="vc_col-lg-4/5 vc_col-md-4/5 vc_col-xs-4/5″][vc_column_text]By
Annette Madjarian
[/vc_column_text][us_post_date][/vc_column][/vc_row][vc_row][vc_column][vc_column_text]
Local resident Wayne Broady is a man on a fundraising mission.
The Hornsby Heights local counts his lucky stars when his life was saved after he suffered a massive heart attack in 2017 while swimming at Hornsby Pool.
Wayne credits the swift actions of both the lifeguards at the pool and ambulance officers who ensured Wayne got to hospital in time for his life to be saved. Subsequently, Wayne received a donor heart in 2018 and today he is alive to tell his story. He is now determined to raise public awareness about the importance and benefits of organ donation and is currently fundraising so he can compete at the World Transplant Games in Perth from 15 to 21 April.
"As a transplant recipient, there are few words that I can use to describe what my donor, and my donor's family, have given me. Thank you just doesn't seem enough – this is a tangible way to demonstrate my appreciation, and to show how grateful I am and how I will make the most of any opportunity presented in the future," he said.
"It hasn't been easy, but I will never give up. Goal setting is really important to the recovery process, and I have started exercising and gaining the fitness required to compete in some swimming and possibly even triathlon events."
Wayne is fundraising for himself and his wife Anna, his carer, to help with the costs of competing at the Games. His goal is to raise $3,000 to help with training, accommodation, flights, uniform, meals and attendance fees.
Wayne, who returned back to part-time work at Hornsby's Barrie Automotive, said the chance to compete will assist in his recovery, both mentally and physically, as well as providing an opportunity to help raise awareness for the cause.
To help Wayne represent Team Australia at the World Transplant Games, go to https://www.mycause.com.au/p/304532
Alternatively, if you are a local business owner willing to assist with any in-kind support, please contact Wayne directly at [email protected].
Organ and tissue donation saves many lives every year. Registering as an organ donor means that you can save up to seven lives after your death, as well as helping many more people through eye and tissue donation.
For more information, or to register as an organ donor, visit Donate Life at https://www. donatelife.gov.au/register-donor-today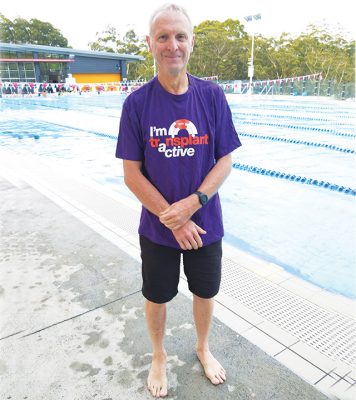 [/vc_column_text][/vc_column][/vc_row]