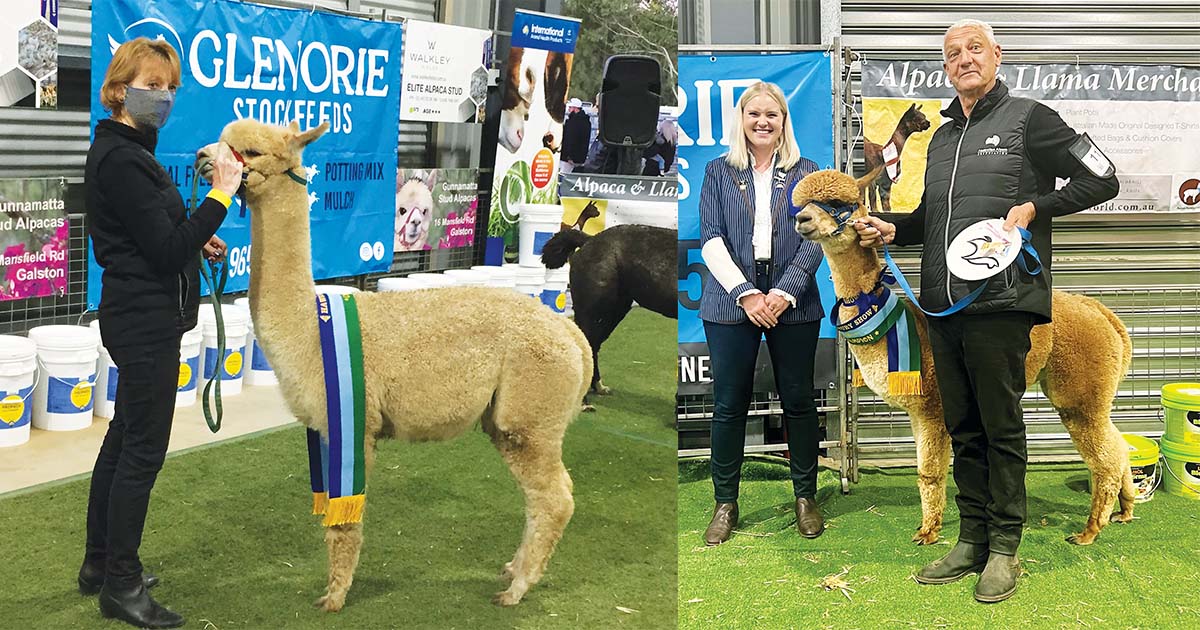 Despite the predicted torrential rain, alpacas were again in force at this year's Hawkesbury Show, the 2nd largest regional agricultural show in Australia. Thanks largely to the construction of the new livestock pavilion, all the events scheduled were able to be completed.
Local alpaca breeders attending the show included Gunnamatta Stud from Galston, Woolpaca Farm, from Glenorie and Sotaycam Alpacas also from Glenorie.
Friday was fleece judging day and a total of 68 alpaca fleeces were presented for judge Rubey Williams' consideration. One benefit of judging in the new pavilion is that the public are able to see and hear what the judges are doing. Previously this process was somewhat hidden away from the public view. In addition, a number of local alpaca breeders had animals on display and two formal talks were given for groups of school students.
Whilst the alpaca halter judging event is traditionally held outside, the weather on Saturday demanded a Plan B. In a tiny show ring within the pavilion a total of 122 alpacas were judged by Ms Williams. One highlight was the attendance of a cameraman providing a live stream to the NSW Alpaca Region Facebook page.
Amongst the 32 exhibitors, the 3 from this area all walked away with broad ribbons. Woolpaca Farm of Glenorie won Champion Senior Female with Woolpaca Farm Tempe, Sotaycam Alpacas, also of Glenorie, won Best Roan with Sotaycam Honour and Gunnamatta Stud Alpacas of Galston were awarded Reserve Champion Mature Male for Gunnamatta Sonic and Best Grey for Gunnamatta Cinders.
A first-time event this year, in addition to the ever popular "Walk an Alpaca" and felting workshops, was the inclusion of the Australian Alpaca Youth group. Throughout the day on Sunday, there were a range of competitions designed to encourage young people to get involved with handling alpacas. Events included Stockmanship, Showmanship and Judging. It was truly inspiring to see the young folk developing their skills and confidence in a formal but fun environment.
Hopefully next year the weather will behave and the alpaca event can revert to being a major outdoor drawcard at the prestigious Hawkesbury Show.