All
Environment
Tracking Koalas with the Hawkesbury-Nepean Landcare Network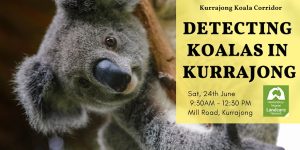 The Hawkesbury-Nepean Landcare Network will have its Koala detection activity in the Kurrajong area on the 24th of June, 2023.
In collaboration with the Science for Wildlife, the event will give attendees new perspectives and information about tracking, detecting, and helping koalas in the Hawkesbury district.
"Science for Wildlife will talk about their recent scat detection efforts with Groot, the detection dog, as well as other old and new methods to see signs of koalas. They will also do a demonstration showing how they radio track koalas," according to the Hawkesbury-Nepean Landcare Network.
Interested residents can interact with researchers throughout the journey. Throughout the event, they will be introduced to an overview of the Kurrajong Koala Corridor, a Talk and Demonstration from Science for Wildlife, a Walk through Matheson Park, and will conclude with a Community Discussion.
Little Wheeny Creek and Landcare, and Hawkesbury Environment Network will lead the concluding discussion.
It is free of charge. In addition, refreshments such as coffee, tea, and lunch will be provided.
The event will begin at 9:30 AM and end at 12:30 PM AEST. The location will be 1st Grose Vale Scout Hall, Mill Road, Kurrajong, NSW 2758, Australia.
Reservations are essential and can be made via Eventbrite here: Detecting Koalas in Hawkesbury.
Image credit to Hawkesbury-Nepean Landcare Network and Valeriia Miller via Pexels.