[vc_row][vc_column width="1/6″ offset="vc_col-lg-1/5 vc_col-md-1/5 vc_col-xs-1/5″][us_image image="67173″ size="thumbnail" align="left" style="circle" has_ratio="1″][/vc_column][vc_column width="1/12″ offset="vc_col-lg-4/5 vc_col-md-4/5 vc_col-xs-4/5″][vc_column_text]By
Bev Jordan
[/vc_column_text][us_post_date][/vc_column][/vc_row][vc_row][vc_column][vc_column_text]Hundreds of Christmas cards are currently being delivered to aged care homes as part of the Be Santa to a Senior program run by Home Instead Hornsby Hills office.
Co-ordinator Cathy King (pictured) said she had been so impressed with the colouring in skills of the primary school children involved and the lovely messages they had written.
She has received 500 handwritten Christmas Cards from students at St. Michael's Primary School in Baulkham Hills and Barnier Public School in Quakers Hill and 110 have already been delivered.
She said the reaction from residents had been very touching.
"During COVID Lockdowns, a lot of seniors had no contact from family and friends, so we thought we would like to help brighten up their Christmas with a personalized message from a Primary school student from the participating," she said.
"Residents told us they had never had anything like this before. It was a really beautiful day (delivery day)."
Residents from Woodlands Retirement Village at Cherrybrook are due for a delivery in a few days time.
Cathy, who is Triage Care Coordinator at Home Instead Hornsby Hills Office which covers the Hawkesbury area as well said that the feedback from both the schools and the aged care centres had been so positive that they intended to expand the program next year.
"They all want to do it again next year." She said any schools or aged care centres wanting to be part of the program for 2023 should email her at [email protected]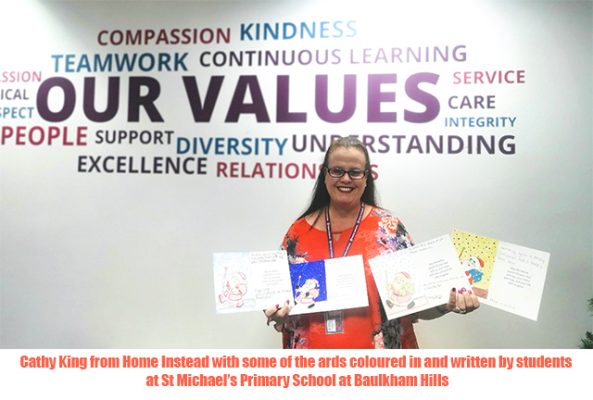 [/vc_column_text][/vc_column][/vc_row]