All
Hills Shire Council
newsletter
Hills Shire Council won Gold at Australasian Reporting Awards 2023
The Council received the award due to its 2021-2022 Annual Report.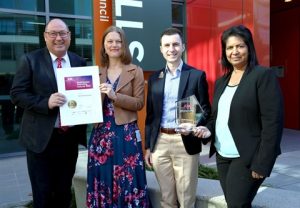 From left to right: Council Executive Manager of Finance Corporate Strategy Chandi Saba, Mayor Gangemi, Council Internal Communication Officer Nicole van der Stel, and General Manager Michael Edgar.
---
On Thursday, 15 June 2023, the Hills Shire Council (HSC) received a Gold Award from the Australasian Reporting Awards held in Sydney.
Facilitated by the Australasian Reporting Awards Limited (ARA), the Awards aim to enhance the quality of annual reporting throughout Australia and promote public awareness towards organisations and their goals and accomplishments.
Over 70 companies, government councils, and organisations received the 2023 Gold Award. Other categories include the Special Awards, Industry Sector Awards, Sustainability Reporting Awards, and Silver and Bronze Awards.
Different categories have a different set of criteria. The General Awards, such as Gold, Silver, and Bronze, are assessed based on six criteria: the critical summary and purpose, coverage of the organisation's approach, operations, and objectives, financial analyses and statements, and how the report was presented.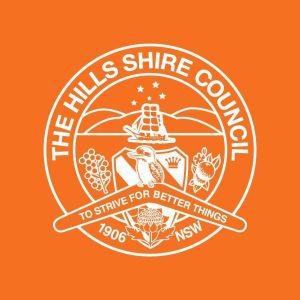 According to an HSC's media release on 26 June, the HSC won the Award due to its 2021-2022 Annual Report.
Dr Peter Gangemi, Mayor of The Hills Shire, said, "[o]ne of the aims of [Hills Shire Council]'s Annual Report is to ensure that detailed information is provided in a clear and easy-to-read format. We want to highlight the important work we are doing and the goals we are achieving for our residents, and our Annual Report does just that."
"I would like to congratulate all our Council staff for their hard work over the many months of producing this report," he said.
The Hills Shire Council General Manager Michael Edgar encourages Hills residents to read the 2021-2022 report.
"It's an outstanding achievement, and those who worked hard on this statutory document should be very proud of the results."
Image credit to Hills Shire Council and Australasian Reporting Awards.