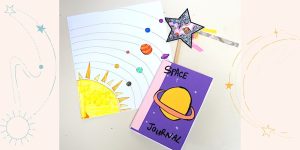 The Hawkesbury Regional Museum announces "Make A Space Journal," an event that will be held on Thursday, the 6th of July 2023.
According to their announcement on Facebook, attendees can utilize their free time as they "[l]earn about stars, comets, and everything it takes to be an astronomer at home. Using simple book-making techniques, students will create their very own Space Journal where they can record observations and information about the night sky."
The day before the event, the Hawkesbury Regional Gallery will have its own workshop on Insect String Art.
The event will run from 10:00 to 11:30 AM. Tickets cost $15.00 AUD. Online reservation is required via Eventbrite. Ticket bookings can be accessed through this link: SCHOOL HOLIDAYS: MAKE A SPACE JOURNAL.
Parking recommendations by the Museum are as follows:
"There are two public car parks located within close proximity to the Museum. Baker Street car park is adjacent to the Museum with spaces available for 27 cars, including 2 accessible spaces. The Kable Street car park is a short two-minute walk (cutting through the Woolworths car park) to the Museum and has parking for 83 cars, including 3 accessible spaces. Time limits apply. Please check for parking restrictions. Free on-street parking."
To read more about their terms and conditions, take a look at their full announcement.
The venue is Deerubbin Centre (Top Floor ), 300 George Street Windsor NSW 2756.
Image credit to the Hawkesbury Regional Museum.