[vc_row][vc_column width="1/6″ offset="vc_col-lg-1/5 vc_col-md-1/5 vc_col-xs-1/5″][us_image image="67486″ size="thumbnail" align="left" style="circle" has_ratio="1″][/vc_column][vc_column width="1/12″ offset="vc_col-lg-4/5 vc_col-md-4/5 vc_col-xs-4/5″][vc_column_text]By
Lawrence Machado
[/vc_column_text][us_post_date][/vc_column][/vc_row][vc_row][vc_column][vc_column_text]
Acardia-born Hannah Dodd continues to raise the standards in Australian wheelchair sports. She is now Basketball Queensland's number one wheelchair athlete.
This follows a stellar year where she helped Australia win the silver medal at the 2022 Commonwealth Games in Birmingham in the highly-competitive in 3×3 wheelchair basketball event.
Hannah, who was born with sacral agenesis and spina bifida, also led the Australian team to the Asia-Oceania Basketball Zonal (AOZ) title in May.
Hannah said she was floored when she was named Basketball Queensland's Wheelchair Athlete of the Year.
The multi-talented athlete is currently playing in the Italian National Wheelchair Basketball League, where she continues to add new admirers to her exciting style of play. Her partner Steven Elliott plays alongside her in the same team, PDM Treviso.
Hannah told The Hills To Hawkesbury Community News from Italy that she was humbled to be honoured by the Queensland federation. "This is definitely a surprise to be named because there have so many great performances from other Queenslanders in wheelchair basketball this year," the 30-year-old said."I was informed by Basketball Queensland telling me I'd been awarded Wheelchair Athlete of the Year for 2022 and my first reaction was total surprise because I really didn't expect it."
Hannah moved to Queensland to study and play basketball. She still has time to turn out for Sydney Uni and Wollongong in the National Leagues.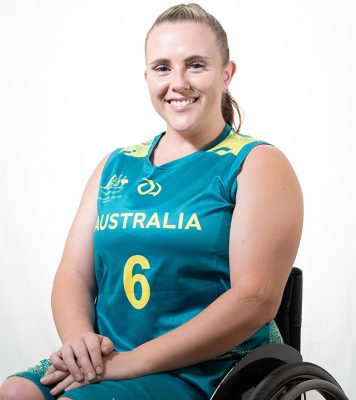 In awarding our Hannah their Wheelchair Player of the Year trophy, Queensland Basketball said that the two-time, two-sport Paralympian has "emerged as one of the best low-point female wheelchair basketball players in the world".
"Hannah's success and commitment to excellence makes her a worthy recipient of the 2022 Wheel Chair Athlete of the Year Award," the association said,
Hannah skippered the Australian team which won gold at the 2022 Asia-Oceania Zonal (AOZ) championships to qualify for the 2023 world championships. She won the NWBL championship and bronze in the WNWBL championship. Hannah was named in the All-Star 5 and MVP for 1 point classification for the 2022 season.
"I now play only basketball competitively but I jump in a rugby chair every now and again as well as tennis and paddling on very rare occasions," Hannah said.
Speaking about her professional career in Italy, Hannah said: "I miss home. I grew up on acreage and I do miss the open space and farm life living in suburbia.
"But It's going well here in Italy. We're just over halfway through the regular season and about to stop for Christmas break before starting up again in the New Year.
"We have no plans for Christmas just yet, we'll probably do a little bit of travel but don't have that much time off with the season starting back the first week of January."[/vc_column_text][/vc_column][/vc_row]