All
Environment
Library / Museum
Growing Food for Wildlife at Castle Hill Library
Join the Library's initiative using your green thumb and help save native wildlife one native produce at a time.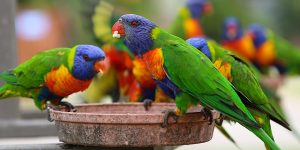 Participate in an informative session about 'The Growing Food for Wildlife' project and helping native wildlife at Castle Hill Library on Friday, 6 October 2023.
Led by a wildlife carer, the late-morning session aims to discuss caring for native plants for native animals in need of food. 
"The [Growing Food for Wildlife] project aims to grow food for sick, injured, and orphaned native animals in the care of local wildlife rescue groups," the announcement read.
The session on Friday is presented in collaboration with the Community Environment Centre, a community hub located in Annangrove which specialises in environmental topics of sustainability, nurturing native species, and gardening.
The session starts at 10:30 AM and ends at noon. Castle Hill Library is located at 14 Pennant Street in Castle Hill, NSW, 2154.
It is free of charge. However, online reservations are required via Eventbrite here: Urban Plants – Growing Food for Wildlife.