[vc_row][vc_column width="1/6″ offset="vc_col-lg-1/5 vc_col-md-1/5 vc_col-xs-1/5″][us_image image="67173″ size="thumbnail" align="left" style="circle" has_ratio="1″][/vc_column][vc_column width="1/12″ offset="vc_col-lg-4/5 vc_col-md-4/5 vc_col-xs-4/5″][vc_column_text]By
Bev Jordan
[/vc_column_text][us_post_date][/vc_column][/vc_row][vc_row][vc_column][vc_column_text]
If you ever want to see flying dogs in action then now's your chance as the 2022 Australian Dog Flyball Nationals will be held at Hawkesbury Showground from 1st-3rd of October.
Dog Flyball is a fun sport for dogs of all types and sizes as two teams of dogs (four in a team) race down a lane of jumps to retrieve a ball and run back to their owners before the next dog in the relay sets off. You can see why it is called Flyball as the dogs really fly down the track.
This year's Nationals competition is being hosted by the Norwest Thunderdogs Flyball Dog Training Club which is based in Castle Hill.
Norwest Thunderdogs won the Division 1 Championships at the 2021 National event so will be defending its title. More than 500 people and their dogs from 50 clubs from all over Australia will be in action over the three day event keen to claim the Nationals title.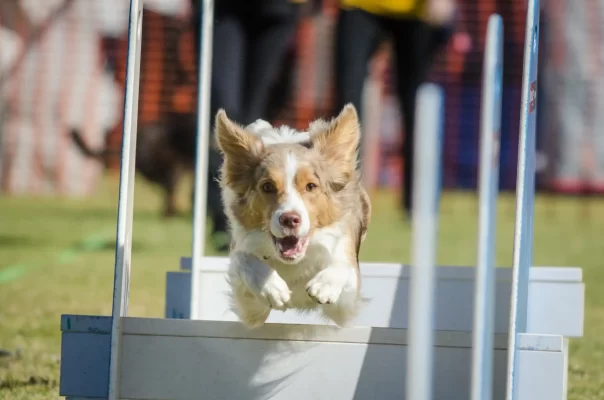 Teams are travelling from Queensland and Victoria and there is even one team attending from Tasmania.
As well as the three day competition there will be over 20 stalls.
Entry is free to visitors. With 50 active club members Norwest Thunderdogs is the biggest dog flyball training club in Australia and is the 2022 Australian Flyball Club of the Year, a title awarded by the national body, the Australian Flyball Association.
The club currently holds the Australian record for the fastest flyball run (four dogs) of 15.987 seconds. It's an exciting sport to watch if you are quick enough!
Amanda Pennicuik, a founding member and Vice-President of Norwest Thunderdogs which has just celebrated its 18th birthday said: "Flyball is 'drag racing for dogs'. It's fun for the whole family, and an exciting event to watch.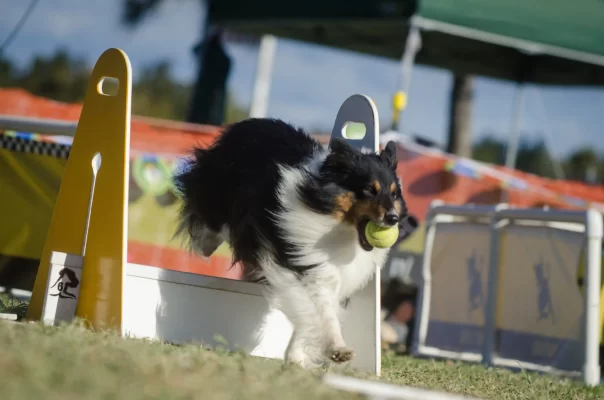 "The public can help cheer on their favourite team or favourite dog to win. It's a wonderful spectacle to see the dogs having so much fun, as the competitors use positive reinforcement training techniques to reward their dogs during competition.
"Another great thing about flyball is that almost any dog can participate. Purebreed, rescue, you name it.
" While Norwest Thunderdogs are not taking on any new members other clubs are including Paws 4 Fun which meets at Castle Hill Showground on Sundays. For details of Flyball and other clubs visit flyball.org.au
WHAT: The 24th Australian Flyball National Championships.
WHEN: Saturday, October 1st to Monday, October 3rd.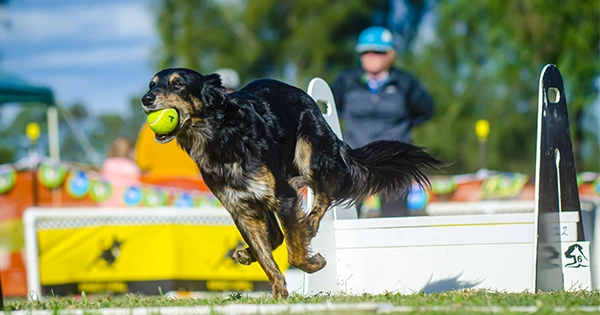 COST: Free to come and watch. Dogs on-leads are also welcome.[/vc_column_text][/vc_column][/vc_row]