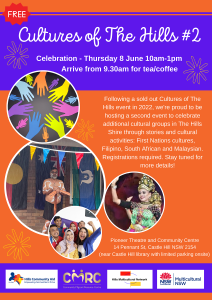 After their successful gathering last year, the Cultures of The Hills return for the second time on the 8th of June, 2023, at Castle Hill, NSW.
Hosted by The Hills Community Aid, in partnership with the Community Migrant Resource Centre, The Hills Multicultural Network and The Hills Police Area Command, it will be composed of different cultures such as First Nations Cultures, Filipino, Malaysian, and South African.
The multicultural event's goal is to "celebrate additional cultural groups in The Hills Shire through stories and cultural activities," according to the Hills Community Aid's event banner.
The Hills Community Aid is an organization located at Windsor Road, NSW, which aims to bring various beneficial programs to communities.
Cultures of The Hills event
The event is free to anyone but registration is required. The online registration form can be accessed here at the website's bottom left: Cultures of The Hills #2.
Cultures of The Hills will be held at the Pioneer Theatre and Community Centre located at 14 Pennant St. Castle Hill, NSW 2154.
Source:  The Hills Community Aid
Image sourced from The Hills Community Aid