[vc_row][vc_column width="1/6″][us_image image="68668″ size="full" align="left" style="circle"][/vc_column][vc_column width="1/6″ offset="vc_col-lg-4/5 vc_col-md-4/5 vc_col-xs-4/5″][vc_column_text]By
Michelle Byrne
[/vc_column_text][us_post_date][/vc_column][/vc_row][vc_row][vc_column][vc_column_text]One of our favourite things to do after school and on the weekend is to explore the numerous parks and reserves spread across the Hills and Hawkesbury.
Crestwood Reserve
Sometimes we drive randomly looking for new parks that we have never been to or have never seen before. There is always shouts of delight from the backseat when a new park is spotted followed by requests to stop and "try it out"!
It is fair to say that over the years we have formed a list of favourites, parks that we keep going back to time and time again. Perhaps our most loved park at the moment is Crestwood Reserve.
Nestled in Baulkham Hills, Crestwood Reserve is a bushland park with numerous trees and bridge crossings over the Toongabbie Creek that runs through the reserve. Walking along the creek, you can hear the birds and the water running over the rocks in the creeks and it is easy to forget the world around you. In the warmer weather water dragons can be seen basking in the sun and baby ducklings swimming in the creek.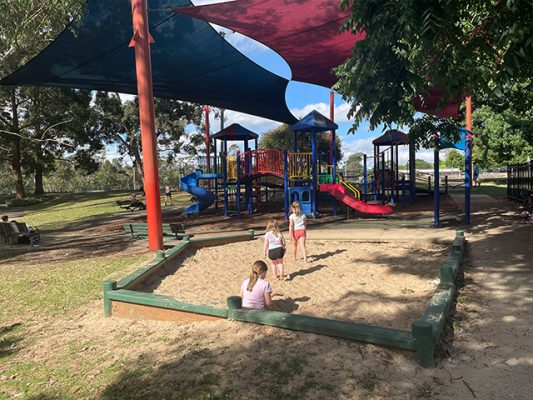 There are extensive footpaths and cycle paths through and around the reserve and if you are feeling adventurous you can follow the tracks to nearby reserves such as Mackillop Reserve, Turon Avenue Reserve and Tory Burn Reserve. For the fitness fanatics there is also an outdoor gym and for the dog lovers a dog park with a section for smaller dogs.
For us it is all about the playgrounds, one at each end of the reserve. There is a larger playground with swings and a jungle gym as well as a large sand pit. The smaller playground has monkey bars, a slippery dip, a flying fox and smaller equipment for younger kids. Around the smaller playground is a learn to ride track which has miniature roundabouts, stop signs and pedestrian crossings and is a fun place to ride a bike or a scooter.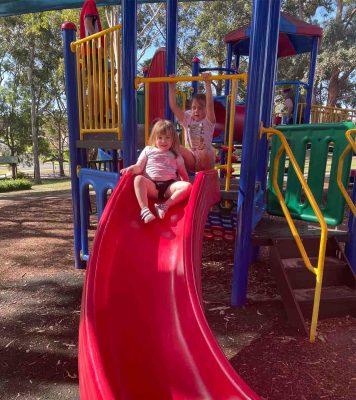 There are also netball courts, basket-ball hoops, cricket nets, tennis courts, a hitting wall as a skateboard snake pit and a small half pipe with jump elements as well as sporting fields to run around on. There is literally something for everyone to enjoy at Crestwood Reserve and a great place for a picnic or birthday celebrations with BBQs and picnic tables also on site.
The only thing missing from Crestwood Reserve is water play and in the summer months our favourite parks which contain water play elements include Livvi's playground at Bernie Mullane in Kellyville and Governor Phillip Park on the banks of the beautiful Hawkesbury River in Windsor.
We are so fortunate to have so many beautiful parks and reserves in our region and each park and reserve has something different to offer. I encourage you to explore parks and reserves you have never been to with friends and family this summer. You never know – you may find a new "favourite" destination.
For more information on local parks and reserves check out the Hills Shire Council and Hawkesbury Council webpages.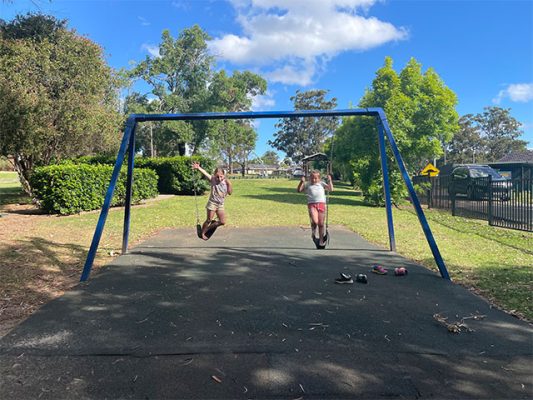 [/vc_column_text][/vc_column][/vc_row]