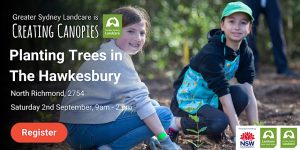 The Greater Sydney Landcare, along with Landcare NSW, will hold a 'Creating Canopies' tree-planting project in North Richmond, Hawkesbury, on 2 September 2023.  
The planting starts at 9:00 AM and ends at 2:00 PM. Everyone is encouraged to attend the free event. The planting tools, plants, gloves, and on-site training will be provided.
Interested attendees are required to wear appropriate clothing such as long sleeves and pants, closed sturdy shoes, a hat and sunscreen. While refreshments will be available, bring-your-own water is still advised.
"We're planting trees to help cool down Sydney and create valuable habitats for birds and other wildlife," the event description read.  
"Green spaces aren't just great for wildlife, they're also associated with better physical health, lower stress levels, and greater community satisfaction. Plus, they cool down our neighbourhoods! Now's your chance to get involved with greening your community."
Signing up is required and can be made online via Eventbrite here: Creating Canopies in the Hawkesbury. 
Additional questions and enquiries can be directed to the Project Manager, Danielle, at [email protected].
Since 2022, Creating Canopies has been a project by the Greater Sydney Landcare (GSL) aiming to reduce temperatures in Sydney using planting events throughout Greater Sydney. As part of the NSW Government's Greening our City Initiative, the project aims to plant about 200,000 trees by 2025.
The GSL partners with the NSW Government and Landcare NSW and the Landcare and Bushfire groups across the state to achieve the three-year goal.