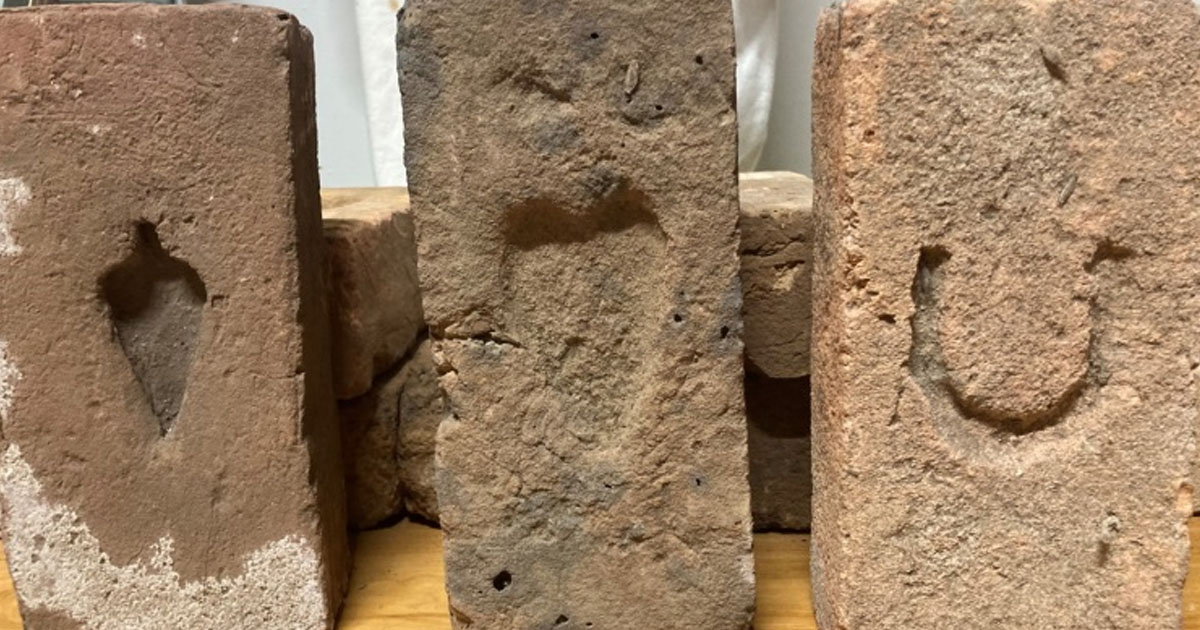 Twelve convict sandstock bricks were donated to our Museum by Dennis and Florence Willcox in 2011. They had been part of a large number of sandstock bricks used to form drains in their milking shed. Dennis' father Hector (Dick) Willcox with his new wife Florence had bought the Brummer 50 acre dairy farm in Memorial Avenue beside Kellyville Park in 1949. He named his property "Severn Vale Friesian Stud" after the Severn River in Gloucester, England where he had been born. Dick milked 150 Friesian cows until his death in 1975 when the dairy closed. Florence and her sons Graydon, Dennis and Glenn continued to live on the property until 1998 when most of the land was sold for commercial and housing development. Dennis and Florence retained two house blocks where they lived with their families until 2018. Hector Court was developed as a road off Memorial Avenue, Kellyville.
Dennis Willcox said that his father had gathered the many sandstock bricks beside Old Windsor Road near the White Hart Inn site where New Windsor Road joined Old Windsor Road. Could these bricks be from the White Hart Inn built with sandstock bricks on a sandstone foundation in 1826 by William Cox Esquire?
White Hart Inn 1840 artist's impression
The convict sandstock bricks at the Museum were made of clay with evidence of sand and shell and an indentation on one side (frogmark) in the shape of an arrow, heart or horseshoe. Frogmarks were used to identify the brick makers or the owner of the house to avoid theft. Brick makers were transported convicts who were assigned to a private owner (possibly William Cox a major landowner in the Hawkesbury area). The bricks appear to be hand moulded and wood fired. The mould would have been an open rectangular wooden frame. The mould was dusted with sand to allow the clay to slip away easily, hence the origin of the term 'sandstock'.
Bricks were coated with dry sand to prevent them adhering to other surfaces and allowed to dry. Bricks were of a low quality due to inefficient temperature control of the wood fire or the sun. Bricks were an important part of the early Colony. The First Fleet carried 5,000 bricks and 12 moulds needed to create more plus a skilled brick maker, convict James Bloodsworth. A good site was found that had the desired clay and water in the area between today's Haymarket and Darling Harbour. At the time the place was called Brickfield.
Another convict who appears to have been directly responsible for early brickmaking at Brickfield was Samuel Wheeler whom Watkin Tench records as "tasked to make 40,000 bricks and tiles monthly, having 22 men and two boys to assist him". Bloodsworth, Wheeler and their men clearly laid the foundations for the brickmaking industry in New South Wales.
Source and Image credit to The Hills District Historical Society