All
Playground
Colonial Reserve: Discover Hawkesbury's Playgrounds & Recreations
The reserve offers a diverse set of playground units that are stimulating and fun.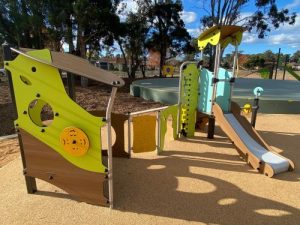 Diabolo Baby play unit with sensory and tactile panels suitable for ages 0.5+
---
The Colonial Reserve is at the heart of Bligh Park, offering the largest field within the immediate community.
The reserve features a children's playground with a Kanope Diamond Net Senior Play with inclined nets, a platform, a slide, a climbing wall, and a Diabolo Baby Junior play unit with sensory and tactile panels. In addition, the playground has a hammock swing, an accessible carousel, and a springer, among other things.
In mid-2021, the Hawkesbury City Council started a survey for the community to choose from 3 possible options for the playground's design. The community chose the first option. The playground was opened to the Bligh Park residents on 11 July 2022, valued at $200,000.
Colonial Reserve is accessible via Colonial Drive at Bligh Park, Neptune Crescent and Guardian Crescent. It is near various sports areas and fields in the area.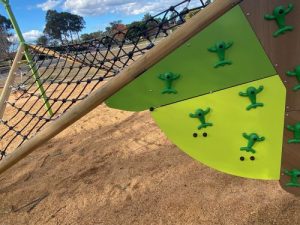 Diamond Net and climbing wall
Hammock Swing
Image credit to Hawkesbury City Council.