[vc_row][vc_column width="1/6″][us_image image="68668″ size="full" align="left" style="circle"][/vc_column][vc_column width="1/6″ offset="vc_col-lg-4/5 vc_col-md-4/5 vc_col-xs-4/5″][vc_column_text]By
Michelle Byrne
[/vc_column_text][us_post_date][/vc_column][/vc_row][vc_row][vc_column][vc_column_text]Christmas is the most magical time of the year. It is a time filled with good cheer and good will. It is a time to celebrate the end of the year with friends and family and to look forward with hope and anticipation to a brand-new year full of adventures and new opportunities.
For the kids, the hope that Santa Claus will soon visit, results in endless excitement and endless questions about "how many days till Santa comes?" and "Am I on the nice list? Will Santa come to me" and "how does Santa get around the world in one night"?.
In the lead up to Christmas, one of our favourite things to do is to pile into the car as a family and to explore the Christmas light displays on offer. Every year there are more and more houses lit up with thousands of Christmas lights and each year the decorations become bigger and better than the year before. Illuminated reindeers, snowmen and santas fill front yards along with nativity scenes and inflatable santas riding jet skis and dinosaurs carrying presents. Flashing lights adorn the rooves and gardens resulting in screams of delight from the back seats and pleas to stop and get out for a closer look. Each display is different, but each brings a crowd especially those houses with music, laser light shows and snow machines.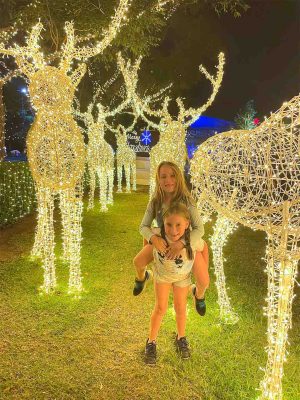 So far this Christmas one of our favourite places to explore lights is at Hillsong at Norwest. It is a great place for the kids to run and explore the different elements of the display. There are large reindeers lit up and a sleigh attached for people to sit in. There is also a large bauble, a large gift and a tunnel all lit up which you can walk through.
Illuminated swings and see-saws along with a gingerbread house keep the kids entertained. The trees are lit up with gold lights and it is certainly worth a wander through. We still have a couple more weeks to explore Christmas light displays but some of our favourites so far are Minago Place, Castle Hill which is complete with a snow machine and Santa's chair. Murrumba Place Castle Hill which is an incredible display with so many elements to look at and includes a flashing Merry Christmas sign and nativity scene. 136 Excelsior Avenue Castle Hill is also mind blowing with a walk-through display. There is so much to look at including the grinch much to my daughters' delight. Baulkham Hills Road also has some fantastic displays including a snow machine at 149 Baulkham Hills Road which provides endless delight for the kids and adults alike. Carlisle Avenue, Kellyville has a group of houses all brightly lit up and it is fun to walk from house to house and get a closer look at each of the displays. Farmhouse Avenue Pitt Town also offers an incredible display and also includes a snow machine and laser projections.
Looking at the displays it's easy to see why many of them take weeks to put together with some consisting of tens of thousands of lights and many different elements. However, Minago Avenue Castle Hill Murrumba Place if you ask the owners why they spent weeks putting together displays, they will all tell you that they love seeing the smiles on the faces of others and the joy it brings to the community makes it all worthwhile. Many of the owners also use their displays to raise awareness as well as funds for charities close to their hearts, reflective of the Christmas spirit they possess and the desire to make the world a better place.
Every night we discover more and more displays around every corner and each one brings us Christmas joy. I encourage you and your families to check out and appreciate this year's Christmas light displays – you won't be disappointed!
To find Christmas light displays close to you go to www.christmaslightsearch.com.au
From my family to yours, may I wish you a very Merry Christmas and a happy, healthy and safe New year. I look forward to sharing more of our "Out and About" adventures with you in 2023.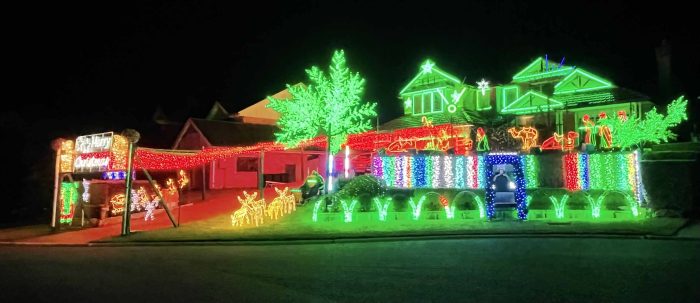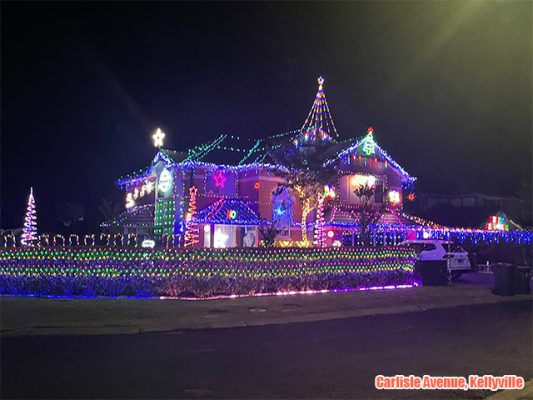 [/vc_column_text][/vc_column][/vc_row]