By LAWRENCE MACHADO
Olympian Jenny Blundell will be one of Australia's medal hopes in Tokyo but her journey started more than 20 years ago at Cherrybrook Little Athletics.
Blundell, 27, who runs in the 5000m in Tokyo, made the semi-finals in the 1500m at the 2016 Rio Olympics.
She stood out at Cherrybrook LA, regularly smashing state records and remarkably at just 15, won the Australian 800m title in the U20 category. "I feel that in some way, athletics chose me, from such a small age, I had the talent and will to compete," she says in her Australian Olympic Committee comments.
The Cherrybrook Technology High student, who finished fifth in the 800m at the 2010 Youth Olympics, credits her club coach Valmé Kruger for turning her into a champion.
"I would not be the runner I am today without (Valmé's) guidance for 10-plus years," Blundell told The Aussie Runner podcast.
"She has bred me to be a low mileage but very good runner. There was never junk mileage and my now coach Jimbo (James Fitzgerald), he is very for that as well.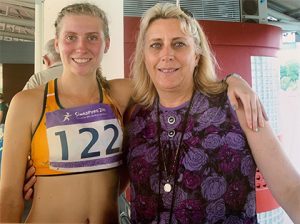 "Valmé bred speed into me, she didn't want me to touch the 1500m until I was in Year 11, Year 12, even though I was really good at cross country … as soon as cross country season was finished it was like 'Right, 400s and 800s … you'll never get this opportunity to do speed ever again in your life. You're in this for the long haul'.
"She knew I had talent and she just made sure that I was never pushed too much … she is a gem."
Blundell speaks regularly to Kruger, saying she was like a second mother to her.
"I often reflect on the sessions we used to do and make sure that we are incorporating philosophies of that," Blundell said. "(Valmé) was very time-orientated, because growing up I didn't have too much competition so I was time-trialling all the time. So I did reflect on that over the last month to do my races by myself – it was very fitting to draw upon how I ran growing up."
She visited Cherrybrook LA last season to support the cross country runners.
• Top international photo finish official Janet Nixon is also associated with Cherrybrook LA as her children did athletics here.
• Cherrybrook LA season runs from September to March, offering Friday night competitions on a rotating roster of events for children aged 5-16 of all abilities.
Registrations are open during August. Details: cherrybrookathletics.org.au