[vc_row][vc_column width="1/6″ offset="vc_col-lg-1/5 vc_col-md-1/5 vc_col-xs-1/5″][us_image image="67173″ size="thumbnail" align="left" style="circle" has_ratio="1″][/vc_column][vc_column width="1/12″ offset="vc_col-lg-4/5 vc_col-md-4/5 vc_col-xs-4/5″][vc_column_text]By
Bev Jordan
[/vc_column_text][us_post_date][/vc_column][/vc_row][vc_row][vc_column][vc_column_text]Ben Dessen was six years old when he got his first pet, it was a children's python called Rosie and before he could get her he had to put a pet proposal to his parents, Kathryn and Michael, to convince them he would be a responsible carer.
"My parents knew I had a curiosity in animals, my mum was used to me bringing insects and spiders home in my lunchbox," says Ben.
More than 20 years later the Dural resident has included a pet proposal in his newly released book The Ultimate Pet Handbook which is aimed at young people (and the adults who support them) who have a fascination for animals and who want to have a pet.
There are more than 25 pet profiles in the book, from furry, cute and cuddly to the more unusual such as the giant burrowing cockroach and the axolotl … "these are all pets I have cared for over the years," says Ben.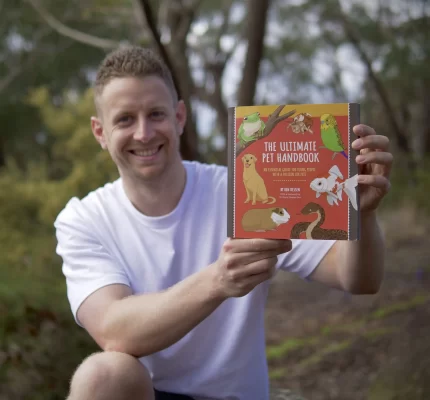 Each Pet Profile includes detailed information on how to look after the pet, plus tips and fun facts. There are chapters on: Planning for a pet, Choosing the right pet and Making a budget. The book directs children to their local shelter or reputable pet store to find their perfect pet.
"There's also a section that covers grief because losing a pet is sometimes the first time a child has to deal with grief," says Ben.
At the back of the book there is a template for a pet proposal to convince adults of the would-be carer's commitment to looking after a pet. His own pet proposals to his parents were pretty successful over the years. "At one point there were about 15 pythons in the house, " he says.
At a certain point his parents decided there were too many pets in the house and so the reptiles were moved to a purpose-built shed in the grounds of their Dural home where Ben would hang out after school caring for them.
Ben graduated from Western Sydney University with a degree in Natural Science, majoring in Animal Science and Conservation Biology, he manages the Zambi Native Wildlife Sanctuary at Dural and is the Store Manager at Kellyville Pets.
He says The Ultimate Pet Handbook is something he wished he had as a child. "When I set out on this journey, I had a vision of writing the book that I wish I had as a young animal lover growing up. A book that would sit on my bedside table, that I could read every night before going to sleep.
"A book with pages that would become worn after being read for the tenth time. A book that would have hand-written notes scribbled throughout, about which pet I wanted to share my life with next and how I was going to give that animal the very best life."
He says he often meets passionate young people who want to share their life with pets but don't always know which pet is best for them, or where to start: "I have written The Ultimate Pet Handbook for them."
The 174-page book has been beautifully illustrated by Nikkita Archer who works alongside Ben at Kellyville Pets with a foreword by Dr Harry Cooper (one of Ben's greatest mentors and inspiration) and a message from Bob Irwin (father of Steve Irwin) to young readers.
"I hope that The Ultimate Pet Handbook will inspire a new generation of animal lovers to be responsible 'pet parents' and enjoy the privilege of sharing their lives with pets. Above all else, I hope the book becomes a catalyst that encourages young people to be compassionate and kind and maybe even pursue a career working with and protecting animals like I have," said Ben.
The Ultimate Pet Handbook is available in bookstores and online. Copies with a personalised message to the child, are available by ordering online at www.bendessen.com.au. The RRP for the book is $29.99[/vc_column_text][/vc_column][/vc_row]